Ronald Walken or mostly known in the industry and households as Christopher Walken. He is famous for his portrayal of Intense, Eccentric, and also villainous performance. He was born in 1943, March 31, in New York, USA. The American actor has appeared in more than 100 films and TV shows. He has appeared in many plays and stage arts and also featuring in many music videos of famous artists.
Christopher's famous movies are "Catch me if you clan" (2002), "Hairspray", the thriller "Seven Psychopaths" (2012), "The Jungle Book" (2016). Christopher won his first academy award for his performance as Nikanor 'Nick' Chebotarevic in the 1978 film "The Deer Hunter".  Also, bagged a Screen Actors Guild's Awards for his portrayal of Frank Abagnale Sr. in "Catch me if you can."
Furthermore, Walken has given life to his roles are Bruce Dickinson and in the "More Cowbell" sketch. Walken's movies have grossed over $1 billion box office earnings in the US. He has also performed in many plays. Most notably in plays like "Hamlet," "Macbeth," "Romeo and Juliet," and "Coriolanus," all of which are Shakespeare classics. He is also one of the famous guest hosts on Saturday Night Live, appearing and hosting the show seven times.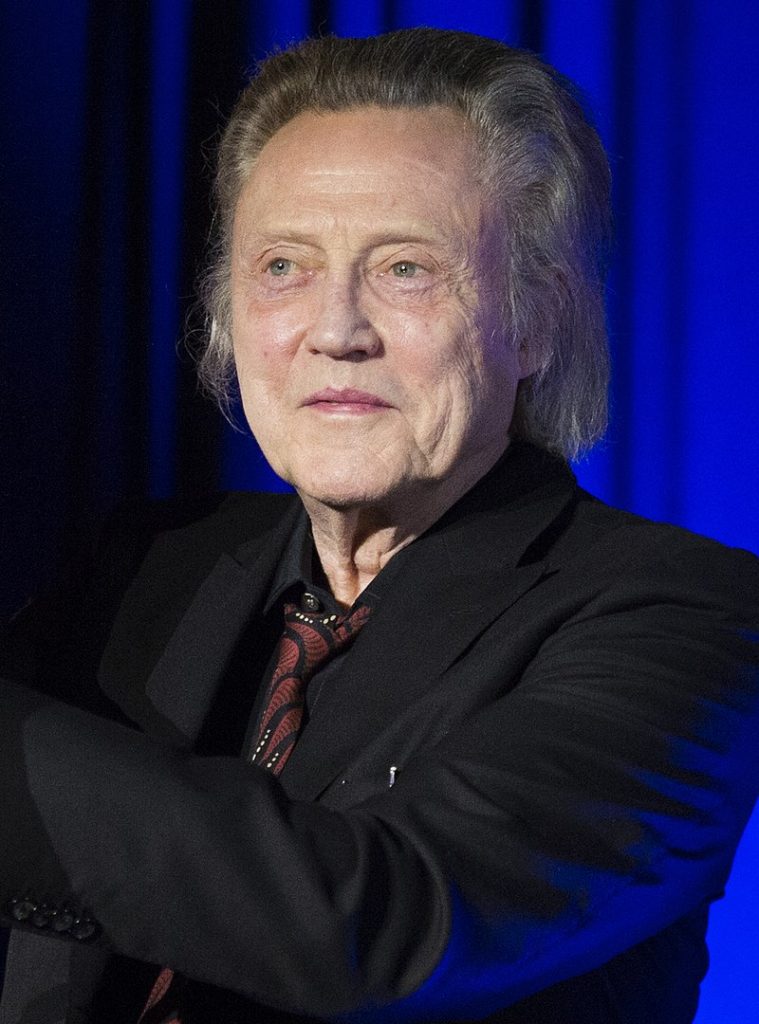 Height
Christopher Walken is 1.83 m tall.
Net worth
The American Actor "Christopher Walken" has a total net worth of $50 million.
Christopher Walken "Childhood"
Christopher Walken was born in 1943, March 31 to parents; father Paul Walken and mother Rosalie. His father was an immigrant from Horst, Germany, while his mother was an immigrant from Glasglow, Scotland. Walken named as Ronald Walken on birth in tribute to Ronald Colman, A British originated Hollywood actor. His friends and family know him as Chris Ronnie as a pet name.
During the '90s, the city of Queens was notorious for being a show biz loving area. Every blue-collar family wanted its members to do something in the field of showbiz. The actor himself has spoken on the topic. Walken has stated on a interview,  "In the 1950s television was being born, and there was this phenomenon, about 90 live shows from New York, so there were hundreds of kids from Queens, kids from blue-collar families, doing TV shows," also adding "In the Queens where I grew up, you didn't go bowling on Saturday; you went to dancing school."
Walken's father was a baker and owned Walken's Bakery, and his mother was an avid fan of showbiz culture. However, it is no surprise when she took the Christopher Walken and his brothers, to auditions at an early age.
Christopher Walken "Early life"
Walken was a child actor who had cameos with Jerry Lewis and Dean Martin. Walker enjoyed a somewhat successful career as a child actor. As early as 3 years of age, Walken started learning dance and began working as a dancer. At that time, the child actors were in demand. The brothers used to earn some pocket money by playing extras in the different TV sets.
At age 16, Christopher Walken works as a Lion Tamer in a Circus, but that didn't work out. However, his girlfriend confirmed him through a magazine that the hairstyle of Walken looks a lot like Elvis. The actor said, "This guy looked like a Greek god.
Walken attended Hofstra University and studied for one year. Later, before eventually dropping out, he landed a role in "Best Foot Forward." Walken appeared as Cayton Dutch Miller in the show.  Due to his previous training and performances as a child actor, Walken quickly found himself landing roles in different musicals. He met the actress, Georgianne Thon during his tour of "A West Side Story." Later, they married.
Even more, he appeared in the chorus of 1965's "Baker Street," and after his appearance, he offered to try and play a dramatic part. He went on to play in the original production of James Goldman's historical drama, "The Lion in the winter" as King Philip of France, alongside Rosemary Harris and Robert Preston. In 1996 Walken performed in a small role in the Broadway revival of Tennesse William's "The Rose Tattoo," for which he received a Theatre World Award. He played on Peter Ustinov's "The Unknown Soldier" in 1967.
Christopher Walken "Film Career"
Till the start of 1970, Walken has already involved in many film projects. He appeared as a supporting cast to Sean Conney and Dyan Cannon in "The Anderson Tape," a 1971's film. He made the breakthrough in the movie career six years later in Woody Allen's "Annie Hall" in 1997. Playing as an offbeat neurotic brother to actor Diane Keaton, he appeared as Duran.
Walken gave a very strong performance in the 1978's movie titled "The Deer Hunter." Under the direction of Michael Cimino, and the cast which was co-starring the likes of Robert De Niro and Meryl Streep. For his brilliant performance, Walken rewarded with the reputed Academy Award for Best Supporting Actor. But unfortunately, after the film "The Deer Hunter" he performed in Cimino's "Heaven Gates". The director who had directed the hit movie now bashed by the critics. As a result, his movie earned little in the Box office, making this $40 million. But, in Western Historical movies, it earns a reputation as one of the most legendary flops of all time.
Walken's later performed on the starring role of the 1980's "The Dog of War." There he played as a mercenary who mixed up with an African dictator, received a warmer response. Later, Walken soon breaks from all the serious roles he had been acting in. And decided to take up a role in Steve martin's musical comedy "Pennies from Heaven". The 1981's movie which Walken used to surprise the critics and viewers from his incredible tap-dance routine.
He set up his image in the industry as a versatile actor who is capable of captivating the viewer's attention in a distinct way, playing serious and sad characters to light-hearted and comical characters. Furthermore, Walken set another image of his in the industry, as a badass villain. He played the villain to Roger Moore's James Bond, the superspy in the 1985's film "A View to Kill".
Walken later teamed up with another intriguing actor, Sean Penn, for "At Close Range," a 1986's crime drama. He earned the praise from many critics who stated that no one could even come close to Christopher Walken when it came to the ability to change characters form easy charm and pure evil at an instant, which was supposedly quite chilling. At the end of the decade, Walken played as a crook in 1989's "Homeboy" and then an alien abducted man in another 1989's "Communion".
In 1990, Walken appears on stage as a freed drug kingpin, in the crime drama "Kings of New York". Who had a change of heart and decided to donate all his money on building a hospital for the poor. He returned as a menacing character in the 1992's classic DC comic adaptation of  "Batman Returns" (1992). There he appeared as an evil businessman, delivering a powerful performance alongside Micheal Keaton's Batman and Michele Pfeiffer's Catwoman.
Walken kept his reputation alive of making the most out of minimal roles in "True Romance" (1993). The film that was starring Christain Slater and Patricia Arquette, Walken's scene as a hitman trying to get answers out of Denni Hopper played Clarence's dad is one the most memorable scene in the entire film. The next year in 1994, he appeared as a member of legend Quentin Tarantino's "Pulp Fiction," in which he gave yet another memorable performance. Walken, when asked about his experience working with the directorial legend, stated to Esquire magazine, "Movie scripts are usually pretty loose—things change a lot. But not with Quentin. His scripts are huge. All dialogue. It's all written down. You just learn the lines. It's more like a play."
It was in 1991, For his work on Sarah, Plain and Tall, Walken earned his first Emmy Award's nomination for Outstanding Lead Actor for his role in Miniseries or Special. He cast as a widower who, to help raise his motherless kids, solicits a new wife; he has co-starred with Glenn Close. Often being appeared as an edgy and serious actor, Walken has time and again shown his qualities as a comic role actor. He is still hailed as arguably the most popular guest host for the famous late-night comedy series, Saturday Night Live, he has appeared on this show numerous time and been a target of satire and spoof quite frequently.
Christopher Walken imitation is also one of the most popular things in SNL, where different actors mock Walken's unusual speech. On his ever mocked accent, Christopher Walken replied, "I think my rhythm is a bit like someone whose first language isn't English. I could get away with being a German commandant and not have to do a lot of accents, because I already sound like I don't speak English that well,"
Walken was not done showing his insane skills in acting, as he grabbed his second Oscars nod for his performance in Stephen Speilberg's "Catch me if you Can", alongside Leonardo DiCaprio, who played the young con artist in the 2002 true-life story, Walken gave a subtle performance as Frank's father who earned him his second Oscars award nomination.
Walken is famous for taking a wide variety of films and work very consistently. He tasted horror genre with the entry in "The Prophecy Trilogy" (1995-2000) and as archangel Gabriel and in 1999 as headless horseman alongside Hollywood big names Jhonny Depp and director Tim Burton in the film "Sleepy Hollow." The actor also worked in quite a few numbers of a dud, for example, "Things to Do in Denver When you are Dead" which  released in 1995, "Joe Dirt, the low-brow comedy released in 2001 and yet another flop "The Country Bears" (2002)
In recent years Walken started acting in comedies as the box office hit "Wedding Crashers" (2005), Click (2006) alongside Adam Sandler, and in "Balls of Fury" (2007)
Walken came on-screen alongside Morgan Freeman and William H Macy on "The Maiden Heist" in 2009, also on "Dark Horse" (2011), He played yet again as a crime man on "Kill the Irishman" In 2011 and later in 2012's "Stand Up Guys", Christopher Walken also gave his voice to the updated version of Disney's "The Jungle Book" as King Louie.
Christopher Walken "Personal life"
Christopher Walken lives in Wilton, Connecticut, with his longtime wife, Georgianne Walken. Walken has no Children but has a few pet cats and seems to be happy with what he has.
He has won 1 Oscar award and won the other 22 wins and also secured 44 nominations. Walken has worked in "Annie Hall" (1997), the 1978 film "The Deer Hunter", 1980's "The Day of War", "The Dead Zone" (1983), " A View to Kill" (1985), Batman Returns (1992), the 1993's film "True Romance", the hit movie "Pulp Fiction" released in 1994, and the 1998's film "Antz" and the 1999's horror thriller "Sleepy Hollow".
Walken changed his name early in his acting career. However, the reporter asked him when asked why?  The actor replied to The Hollywood Reporter with humor, "A lady in the act said she wanted me to be called Christopher, and I said, 'Fine.' … Now I wish I'd picked a shorter name because when I see my name in print, it looks like a freight train,"
Controversies
On November 29, 1981, the news of Natalie Wood's death shocked the entire Hollywood. She was with her husband Robert Wanger, and unfortunately on the boat was another Hollywood star, Christopher Walken.
Walken and Wood were working together at that time on a sci-fi thriller, "Brainstorm." Even though the death was concluded to be accidental, foul play was suspected, which lead to a wrong time in the personal life of Christopher Walken. Rumors were surrounding the relation between Natalie Wood and Christopher Walken.
There has also been said to be reportedly Homosexual. Robert La Torneaux, a famous homosexual actor at that time, put forth the news that Oscar winner Walken and him were in a homosexual relationship while also accusing Walken of being on a sexual relationship with another married man. He is also accused of being in a sexual relationship with the husband of Natalie Wood during the time of her murder.