Conleth Hill is an actor from Northern Ireland. His actual name is Conleth Seamus Eoin Croiston Hill. Hill was born on November 24, 1964, in Ballycastle, County Antrim, Northern Ireland.
Conleth Hill's work on stage and screen reflects the broad range of his acting qualities. Some of his perfect works can be seen in 'Blue Heaven' (1992), 'Game of Thrones' (2011), 'Whatever Works' (2009), 'National Theatre Live: All's Well That Ends Well' (2009), 'Salmon Fishing in the Yemen' (2011), 'National Theatre Live: The Cherry Orchard' (2011), 'Suits' (2011), 'National Theatre Live: Edward Albee's Who's Afraid of Virginia Woolf?' (2017) and a recent stage revival of Edward Albee's 'Who's Afraid of Virginia Wolfe?'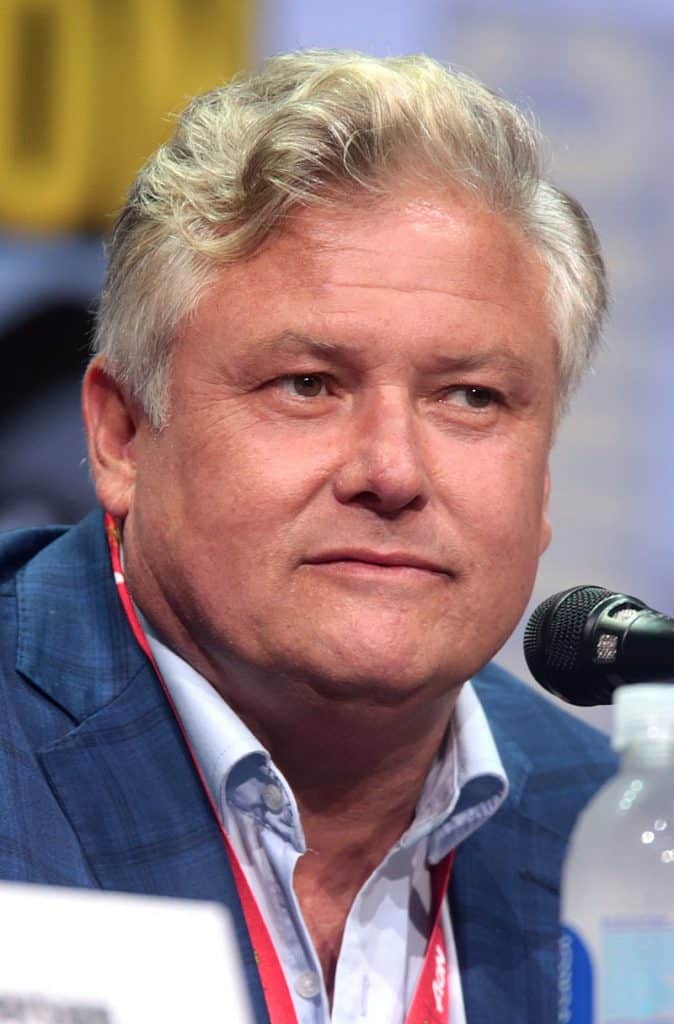 Height
Conleth Hill is 5 ft 9 in (1.75m) tall.
Official sites
Conleth Hill is active in twitter, his Twitter account is
https://twitter.com/conlethhill
Early life
Conleth Hill took birth in Ballycastle in County Antrim, Northern Ireland. His older brother works as a cameraman. He has a sister who is a producer. His younger brother named as Ronan is a sound engineer who has won three Emmy Awards for his sound mixing on Game of Thrones.
Conleth Hill has graduated from St MacNissi's College, Garron Tower. He has attended the Guildhall School of Music and Drama's acting program. He graduated in 1988.
Career
Conleth Hill had his Broadway debut in Marie Jones' 'Stones in His Pockets.' He received a 'Dora Mavor Moore Award' for his work in the Canadian production of the play.
Hill has played as German professor Max Staefel in a 2002 television adaptation of 'Goodbye, Mr. Chips' (2002). He has also played "Mum" to Peter Kay's character "Geraldine McQueen" in 'Peter Kay's Britain's Got the Pop Factor… and Possibly a New Celebrity Jesus Christ Soapstar Superstar Strictly on Ice' which was a spoof on the talent show genre of programmes.
Hill has appeared as Lord Varys in the television series 'Game of Thrones' since April 2011. The series is based on the novel series 'A Song of Ice and Fire' by George R. R. Martin.
In February 2013, Martin hinted a post on his website, which he thought Hill would be a good choice to play the title character in a TV show based on Martin's science fiction novel 'Tuf Voyaging.'
Conleth Hill appeared as Elsie in the second episode of the second series of Peter Kay's 'Car Share.' He acted as the drunken deli counter supervisor.
Interview
Conleth Hill is also best known for his comic role. He has been giving funny comments and interviews till now. He is mostly commented for his 'hair' and his crazy gestures.
Awards and Nomination
In 2001, Conleth Hill was honored with the 'Laurence Olivier Theatre Award' (2000 season) for Best Actor for his performance in "Stones in His Pockets" at the New Ambassadors and York's Theatre. Conleth Hill was nominated for Broadway's 2001 'Tony Award' for Best Actor (Play) for "Stones in His Pockets."
In 2005, Hill was awarded by second 'Laurence Olivier Theatre Award' for Best Performance in a supporting role in a musical for his role in 'The Producers.'
From February to May 2017, Hill played the role of George in the West End revival of Edward Albee's 'Who's Afraid of Virginia Woolf' at the Harold Pinter Theatre, which also featured Imelda Staunton (Martha), Imogen Poots (Honey) and Luke Treadaway (Nick) in a critically acclaimed production with great performances which was brilliantly directed by James MacDonald.