Dominic Purcell is known for his real name Dominic Haakon Myrtved Purcell. He was born on 17 February 1970. Dominic is an English born Australian actor.
Purcell is best known for his character of Lincoln Burrows in Fox's 'Prison Break' and 'Mick Rory / Heat Wave' in CW's television network The Flash and Legends of Tomorrow.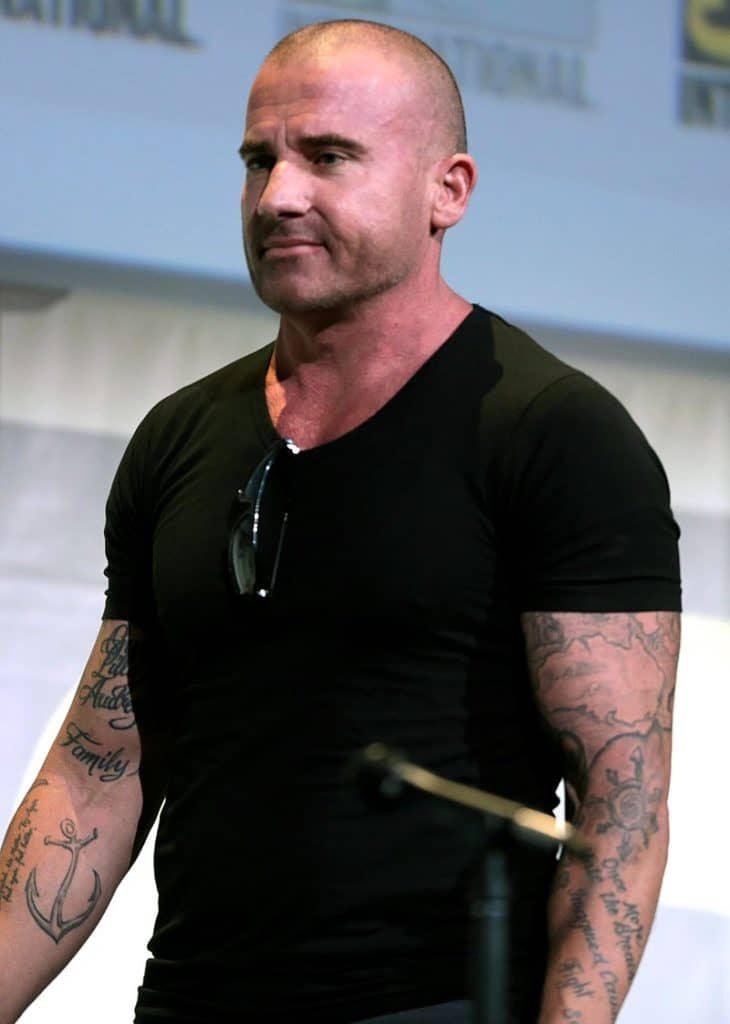 Height
Dominic Purcell is 6 ft 1 in (1.85 m) tall.
Star Sign
Dominic Purcell's star sign is Aquarius.
Early life
Dominic Purcell was born in Wallasey, England on 17 February 1970. His parents are Phil Myrtvedt and Mary T. "Maureen" (née Hassett) Purcell. His mother belongs to Irish descent, and his father was a Norwegian of French descent.
Purcell and his family moved to Bondi, New South Wales in Australia, in 1972 and later to Western Sydney. Accordingly, Purcell attended Blaxland East Public School and Blaxland High School. Similarly, he also joined St Dominic's College and McCarthy Catholic College which is at Emu Plains.
Purcells later joined the Australian Theatre for Young People.' After that, he then enrolled at the Western Australian Academy of Performing Arts. There he studied with Hugh Jackman.
Dominic scored a role in the TV series 'Raw FM' in 1997 and then played a part in 'Mission: Impossible II' (2000), however, the movie was filmed in Australia.
Dominic was also spotted by a US talent scout, and later he went off to LA. From the same time, Dominic has been continuously working with characters in the movie Equilibrium (2002), the TV show John Doe in 2002, Blade: Trinity in 2004, and in the thriller film 'Three Way' in 2004 and a new police television drama, Strut.
Personal life
In 2011, Dominic Purcell dated former '90210' star, AnnaLynne McCord. Later In 2014, the couple announced an agreeable separation, but again they revived their romance a year later.
McCord explained to People Magazine that she came back into his life as a friend when the actor was diagnosed with skin cancer. Certainly, their relationship again turned out romantic. McCord ended her relationship with Purcell on January 2018.
Purcell suffered severe injuries on 1 June 2016, after a misplaced iron bar pieces fell onto his head on a set of Prison Break season 5. Above all, the incident occurred on the set in Morocco. Hence, Purcell was immediately airlifted from Marrakesh to Casablanca. Purcell received emergency treatment for nasal fractures and various other injuries as well. At the start of June, Purcell starts recovering, and the filming schedule had adjusted to minimize disruption.
Purcell has two nieces, Claudia and Elisha Purcell.
Awards
In 2007, Dominic Purcell won the 'Australian Academy of Cinema and Television Arts Awards (AACTA Awards) for the Best Actor in the Drama Series 'Prison Break.'
Official Site
Dominic Purcell official sites are as follow:
Instagram: https://www.instagram.com/DominicPurcell/
Other Works
Dominic Purcell had promoted Swedish TV channel TV3. Purcell explained to the camera "Hi, I'm
Dominic Purcell. Join the rest of the gang from Prison Break and me on TV3."
Net Worth
Dominic Purcell is a British-Australian actor and has a net worth of $8 million.
Trivia
Dominic Purcell was a former classmate of Hugh Jackman at the Western Australia Academy of Performing Arts. But after some time, Purcell left high school to establish a landscape gardening project with some friends.
Dominic Purcell has four children: Joseph who was born on August 12th, 1999, Audrey who was born on January 30th, 2001 and twins Lily-Rose and Augustus born on July 7th, 2003
Dominic Purcell had done all of his stunts in the sword fight scene against Blade in Blade: Trinity in 2004.
Purcell mother is Maureen, who is Irish. While, Purcell is the oldest of five children, and his Sibling's names are Damian Purcell, Jaime Purcell, Patrick
Dominic Purcell has two nieces named Claudia and Elisha, and they are Marie-Therese's daughters.
Dominic Purcell is the former son-in-law of David Williamson.
Dominic's parents and siblings all live in Dundalk, Ireland. Therefore, he visits them twice a year.
Purcell was in a relationship with Anna Lynne McCord since July 2011. In spite of, he is 17 years older than her. Purcell has tattooed the birth dates of his four children on the inside of his left forearm.
In 2002, Purcell used to live in Vancouver, Canada, with his family while filming the series John Doe.
Purcell official residence is with his family in Los Angeles, but he lived in Chicago, Illinois, during the filming of Prison Break in 2005.
Dominic Purcell appeared with Wentworth Miller in three TV shows: 'Prison Break' in 2005, 'The Flash' in 2014 and 'Legends of Tomorrow' in 2016. However, they were both protagonists in 'Prison Break,' but in 'The Flash' they were both the antagonists. Later in the film 'Legends of Tomorrow' they took on the role of the 'anti-hero.'
Dominic Purcell had played the same character as Mick Rory / Heat Wave in four different series: 'Arrow' (2012), 'The Flash' (2014), 'Supergirl' (2015) and 'Legends of Tomorrow' (2016).