Iain Glen is a Scottish film, television, and stage actor born on 24 June 1961 in Edinburgh, Scotland. Glen is famous for his roles as Dr. Alexander Isaacs / Tyrant in the Resident Evil films and as Ser Jorah Mormont on 'Game of Thrones.'
Glen's notable roles include John Hanning Speke in the film 'Mountains of the Moon,' Sir Richard Carlisle in 'Downton Abbey,' the primary and title character in Jack Taylor and Jarrod Slade in 'Cleverman.'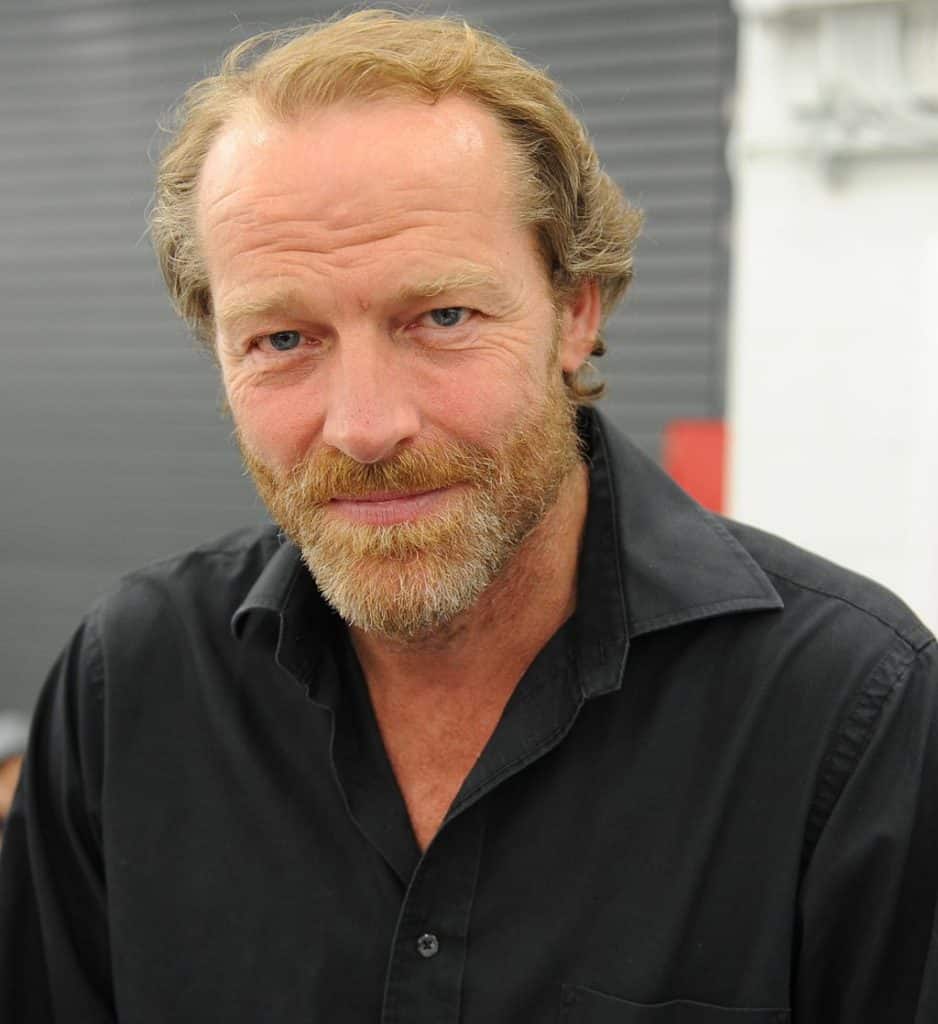 Height
Iain Glen is 6 ft (1.85 m) tall.
Early Life
Iain Glen was born in Edinburgh, Scotland. He completed his education at the Edinburgh Academy, an independent school for boys (now co-educational). The University of Aberdeen followed the school.
Later, Iain Glen then trained at RADA in London. Glen had won the Bancroft Gold Medal.
Career
Glen won the 'Silver Bear for Best Actor' in 1990. It occurred at the 40th Berlin International Film Festival for his role in 'Silent Scream'. Furthermore, he appeared as Hamlet, Prince of Denmark in Tom Stoppard's film adaptation of his play 'Rosencrantz and Guildenstern are Dead'. The film won the Golden Lion at the Venice Film Festival.
Iain Glen received a nomination for an Olivier Award for his performance in 'The Blue Room' opposite Nicole Kidman.
In 2002, Glen starred with Emilia Fox in the Italian-French-British romance-drama movie 'The Soul Keeper.' Roberto Faenza directed the film.
In 2009, it was announced that Glen would star as Ser Jorah Mormont in the HBO series 'Game of Thrones.'
Accordingly, he played the role of Father Octavian leader of a sect of clerics who were on a mission against the Weeping Angels in the film 'The Time of Angels' and 'Flesh and Stone' in 2010. The film was a two-episode story that formed part of the fifth season of the revived television series Doctor Who.
Iain Glen appeared as Sir Richard Carlisle, a tabloid publisher who is a suitor too, and subsequently engaged to, Lady Mary, in the second series of 'Downton Abbey,'
Since 2010, Glen has played the title character in the Irish TV crime series 'Jack Taylor' adapted from the novels by Ken Bruen.
In 2012, Glen played Paul, the husband of Francesca, whose comfortable life comes crashing down when he is imprisoned for drug trafficking in BBC drama series 'Prisoners Wives'.
In 2012, he appeared in a new 4-part BBC Radio 4 adaptation of 'The Count of Monte Cristo,' which was written by Sebastian Baczkiewicz, directed by Jeremy Mortimer and Sasha Yevtushenko. similarly, In 2013, Glen played the lead role in the new play 'Longing.'
Glen appeared alongside Richard McCabe in 'Fortune's Fool' at the Old Vic from 6 December 2013 until early January 2014.
Glen had been due to appear in the full run until 22 February 2014. Unfortunately, he was forced to withdraw early to recover from illness, with his role taken by his understudy Patrick Cremin. And then soon it was taken by William Houston who joined the cast about the same time as Glen's departure.
In 2015, Glen gave the voiceover for a 'Vauxhall Mokka' advertisement.
Iain Glen in Downton Abbey
Iain Glen is the actor who portrays the role of Sir Richard Carlisle on Downton Abbey.
Awards
In 1990, Glen won 'Silver Bear,' 'Evening Standard British Film Award,' for Best Actor and 'Ian Charleson Award' for Special Commendation. Even more, Glen won the 'Screen Actors Guild Award' for Outstanding Performance by an Ensemble in a Drama Series.
Net worth
Iain Glen Net Worth: $3 Million.
Official Site
Iain Glen Official website: http://iainglen.com/
Personal Life
Iain Glen is the younger brother of Hamish Glen. Glen is the artistic director of the Belgrade Theatre, Coventry, and former artistic director of the Dundee Repertory Theatre.
In 1993, Iain Glen married Susannah Harker, but they divorced in 2004. They have one son. His current partner is actress Charlotte Emmerson. He met Charlotte at the National Theatre; while he was performing Streetcar Named Desire with Glenn Close. They have two daughters.
Other works
Iain Glen had played the title character in "Henry V" with the Royal Shakespeare Company in Stratford-upon-Avon in 1994 and then in 1995 at the Barbican Theatre in London.
From 21 June 1996 until 14 June 1997, Glen had played Arnaud Du This in the musical "Martin Guerre" at the Prince Edward Theatre, London
He appeared in several roles together with Nicole Kidman in 'The Blue Room' at the Donmar Warehouse, London, in 1999. Likewise, at the Cort Theatre Broadway, New York, in 1998.
Glen played "Stanley Kowalski" in "A Streetcar Named Desire," a play by Tennessee Williams. However, Trevor Nunn directed the play at the Royal National Theater/Lyttelton, London (October 2002).
Glen played "Judge Brack" in 'Hedda Gabler,' a play by Henrik Ibsen, directed by Richard Eyre at the Almeida Theatre/Duke of York's Theatre, London (2005).
Glen appeared as "John Proctor" in "The Crucible," a play by Arthur Miller, directed by Dominic Cooke, with the Royal Shakespeare Company in Stratford-upon-Avon and then at the Gielgud Theatre, London in 2006.
In 2008, Glen played "Johan" in "Scenes from a Marriage," alongside Imogen Stubbs, directed by Trevor Nunn, at the Belgrade Theatre, London (12 January 2008 – 02 February 2008).
In 1988, Glen acted in Sir Tom Stoppard's play, "Hapgood," at the Aldwych Theatre in London, England, together with Sir Nigel Hawthorne CBE, Felicity Kendal CBE, and Roger Rees.
Likewise, In 1993, Glen appeared in William Shakespeare's play, "King Lear," at the Royal Court Theatre in London, England alongside Tom Wilkinson, Philip Jackson, Hugh Ross, Adrian Dunbar, Andy Serkis, Lia Williams, Saskia Reeves, Cara Kelly, Peter-Hugo Daly and Jason Watkins in the cast. Max Stafford-Clark was the director of the play.
Trivia
Iain Glen completed his education at Edinburgh Academy and the University of Aberdeen and trained at RADA, London.
Iain received a nomination for a Laurence Olivier Theatre Award in 1999 (1998 season) for Best Actor for his performance in "The Blue Room."
However, Iain Glen also nominated for a 1997 'Laurence Olivier Theatre Award' for Best Actor in a Musical of 1996 for his performance in "Martin Guerre."
Glen is an Associate Member of RADA.
Glen is a partner of Charlotte Emmerson since 2005.
Iain Glen has a brother named Hamish, who is the artistic director of the Belgrade Theatre in Coventry, England.
In 2007, Glen received Laurence Olivier nomination for Best Actor in a Play for "The Crucible."
Iain Glen and Charlotte Emmerson gave birth to a baby girl named Mary, who was born in September 2007. His son Finlay was born in 1994 to his first wife.
In 2007, he received the Nomination for 'Whatsonstage Theatre Goers Choice Award' for Best Actor in a Play, The Crucible.'
Glen has also played villains in two movies based on video games: 'Lara Croft: Tomb Raider' and 'Resident Evil.'
Most importantly, Glen is an Ex-brother-in-law of Caroline Harker and Anthony Calf and Ex-son-in-law of Richard Owens and Polly Adams.
Glen also appeared as John Proctor in Arthur Miller's 'The Crucible' for RSC, after completing a limited run in Stratford-upon-Avon. Later, the play transferred to the Gielgud Theatre, London, from April to June in 2006.
In August 2003, Iain Glen participated in Edinburgh Festival, Edinburgh. Anton Chekhov's 'The Seagull' was performed at the festival.
Iain Glen played the title role in the world premiere of the play 'Wallenstein' at the Chichester Festival, Chichester, the UK in June 2009.
Iain Glen has played in 'The Broken Heart' at RSC (Royal Shakespeare Company) Stratford with West End transfer.
In January 2007, Glen nominated for Laurence Olivier Award for Best Actor in a Play for 'The Crucible.'
Glen also appeared in 'Hedda Gabler' at the Duke of York's Theatre, London, in July 2005.