Johnny Depp is an American Actor, musician as well as producer. His full name is John Christopher Depp II. Johnny was born on June 9, 1963, in Kentucky, USA. The Hollywood actor profoundly famous for portraying the character Captain Jack Sparrow. The infamous and mostly drunk pirate from the Disney movie franchise Pirates of the Caribbean. Johnny Depp's age is 55 years old, and he's already a renowned actor, producer, and musician.
Starting his ride to Hollywood fame in 1984's critically acclaimed American fantasy slasher film "A Nightmare on Elm Street". Certainly, he quickly realized as a dark/eccentric character portraying actor due to his characters in movies like "Edward Scissorhands" (1990) , "Sleepy Hollow"(1999) ,"Alice in Wonderland"(2010), "Charlie and the chocolate factory"(2005) and as well as his roles in the "Pirates of the Caribbean" franchise.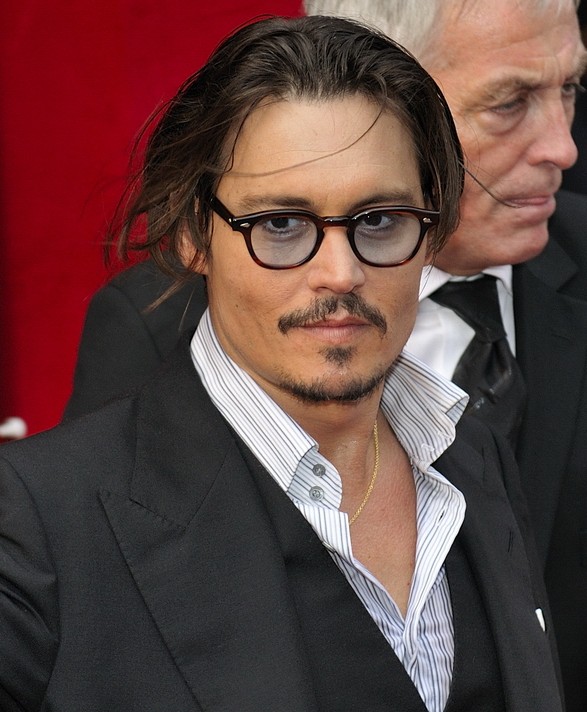 Johnny Depp Height
Depp is 1.78 m tall.
Net worth
In 2019, Johnny Depp is assumed to have $200 million. However, in one time he was assumed to have $450 million.
Social Media
Johnny Depp officially doesn't have any social media accounts. However, anyone claim to be him is fake.
Johnny Depp Latest and Upcoming Movies
Barbarians is an English-Language Italian Drama Film released on September 6, 2019. The movie is based in the novel of the same name by J.M. Coetzee. However, the film is directed by Ciro Guerra and was premiered at the Venice Film Festival.
Childhood and Early Life
Johnny born to a civil engineer father and a waitress and homemaker mother, on June 9, 1963, at Owensboro Kentucky. The youngest child of the Depp family Johnny had 4 siblings. Most importantly, he is a withdrawn and oddball, goofy child. As revealed by Johnny Depp himself "I made odd noises as a child. Just weird things; like turn off light switches twice. I think my parents thought I had Tourette's syndrome"
Due to his Father's profession, the Depps moved frequently from Eastern Miramar, Florida when he was just 7. There he lived for 11 years until he was 18. Due to the stress caused by the family problems Depp began smoking and taking drugs. He also started engaging himself in various self-harming acts while he was only 12 years old. Depp has stated "Puberty was very vague. I literally locked myself in a room and played guitar". In 1975 Depp had a crack on his relationship with his father due to the divorce between his parents.
At 16, after Depp dropped out of high school he joined a garage band known as "The Kids". The band actually became quite popular playing at clubs and bars around Fort Lauderdale. Including the infamous Candy store, famous rock band the Talking Heads and the American new wave band, The B-52's. But even due to the popularity and relative success the band members found themselves having difficulties making the ends meet. During the economically hard time for the band, Depp lived for months in his friend's '67 Chevy Impala.
Johnny Depp's acting and movie career
In 1983, at the age of 20, Johnny married Lori Allison, a 25-year-old makeup artist. Later, the couple moved to LA with Depp's band in the hope of getting a golden ticket. To support themselves economically, the band members started to sell pens for a telemarketing firm.
Johnny Depp's wife helped him to get into Hollywood. She introduced him to her ex-boyfriend and a Hollywood famed star actor Nicolas Cage. Who saw great potential in Johnny Depp and hooked him up with a Hollywood agent. Johnny's talent in many movies, finally, landed his first big film contract with "Nightmare on Elf Street"(1984). The movie was a huge success and helped Johnny Depp's movie career.
Johnny had split up with his band the kids as well as his marriage by 1985. After his divorce, he engaged with Sherilyn Fenn, an actress whom he had met with on the set of "Dummies"(1985). Johnny then again involved with actress Jennifer Grey, but like the previous two love stories, this one also very short-lived.
After studying acting, Johnny landed his first television series "21 jump street" as Tommy Hanson. This role helped him gain overnight stardom and made him into a teen idol almost immediately. In 1989 his contract with 21 Jump Street ended. Later, he took off to work on other more significant roles for his acting career.
The 1990s was an image changing year for Johnny Depp due to his roles in two movies, the cult hit "50s-kitsch musical Cry-Baby". At Tim Burton's fantasy film, "Edward Scissorhands" which not only made him cemented as an A-list actor, it grossed more than $54 million in box office and alongside that Depp was able to put up his name as  one of the most versatile, serious, somewhat gothic and dark, and peculiar performer who had a habit of surprising and wowing his audiences and the critics.
The movie Edward Scissorhands not only helped him boost his career, but it also helped him to meet actress, Winona Ryder. Winona: a co-star of the film whom he'd noticed at their brief meeting at the premiere for her film "Great ball of fire"(1989). These two quickly became the Hollywood power couple as soon as they began dating on the set, Depp even went as far as tattooing "Winona Forever" in his right arm as a sign of loyalty and love for his partner. They even got engaged after 5 months of dating, but alas like the other three relations prior to Winona Ryder, the power couple broke up the reason being Ryder's parents forbade her to marry Johnny.
Despite his personal problems, his career was flourishing, he was gaining critical acclaim, and his reputation as a great actor was also spreading. He earned a Golden Globe nod for his performance as the social misanthrope Sam in "Benny and Joon"(1993). He also performed in "What's Eating Gilbert Grape"(1993) keeping his image as a gothic and somewhat dark serious character he acted as Gilbert a young dissatisfied young man fed-up with his small-town life and its confinements.
Johnny Depp's time of personal troubles
In August 1993, Johnny and his two business partners bought the now infamous The Viper Club in L.A. That was instantly the hippest spot on the Sunset Strip. Depp grabbed this great opportunity to bring his new band P to the spotlight by performing poplar shows at the club. Depp had big plans for his band and The Viper, but it all came to an abrupt end on October 31 when teen heartthrob and critically acclaimed actor River Phoenix died from a drug overdose after being found outside the club.
This incident was the start of a new low in the life of Johnny Depp, who dabbled with drug misuse and went to a state of deep depression. It is around this time when he was constantly in the headlines for the passionate and unpredictable behavior shown by him and his new partner supermodel Kate Moss; it was with her when Depp made headlines for trashing a NY hotel room after one of the many couple squabbles.
Surprisingly enough, Depp maintained a very smooth professional career even in the times of such personal troubles. He managed to grab a Golden globe and wide critical acclaim for the biopic of the infamous B-movie director "Ed Wood"(1994) for which he had re-teamed with Burton. It was around the time of the late '90s when Depp was included in movies like "Don Juan DeMarco" (1995), where he plays the character who believes him to be the great Don Juan. He also played as an undercover cop trying to infiltrate the Bonano crime family in "Donny Brasco"(1997).
Finally, in 1998, Johnny Depp broke up his toxic and destructive relationship with long-time girlfriend Moss, soon after that, he worked in Terry Gilliam's adaptation of "Fear and Loathing in Las Vegas" as the alter ego of journalist Hunter S. Thompson. It was during the filming that Depp developed a deep-rooted friendship with Thompson and Depp will later finance the funeral of the writer after his death in 2005.
"Johnny Depp" The Box Office Man
Depp tried his hand at the Sci-fi horror genre with "The Astronaut's Wife"(1999), in the same year, Depp in cooperation of Burton once again acted as a prim. Driven Ichabod Crane on the gothic horror film "Sleepy Hollow." In 2000 he appeared on "Chocolat" a small romantic drama, it was in 2001 when Depp appeared in a high-budget movie "Blow" as a real-life cocaine kingpin George Jung and later the same year he also appeared in the terror drama "From Hell"(2001) and "Once Upon a Time in Mexico" on 2002.
In 2005, Johnny Depp nominated for the Oscars as the best performing actor as a leading role for the Disney owned family pirate adventure "Pirates of the Caribbean: The Curse of the black devil"(2004). This movie became so popular, and a big box office hit that it lifted off the franchise of Pirates of the Caribbean. At the end of the same year, Depp gave another critically acclaimed and a box office hit performance at "Finding Neverland," starring as the creator of Peter Pan, J.M Barrie. This film earned him more than 10 nominations, including both Oscars and Golden Globes nods.
In 2006, Depp once again returned as Captain Jack Sparrow for the first movie sequel, Pirates of the Caribbean: Dead Man's Chest. The movie breaks the box office record by reaching the highest weekend tally ever. The third movie of the franchise, Pirates of the Caribbean: At World's End (2007), also did well at the box office, bringing in $138.8 million.
In 2007, Johnny Depp appeared on "Sweeny Todd: The Demonic Barber of Fleet Street," a dark gory musical about a barber who kills his costumer before seeing them turn into pies by his downstairs neighbor. Tim Burton directed the movie and it was famous like many other movies while co-starring Helena Bonham Carter. Depp got Oscar-nomination for this performance and also won a Golden Globe Award for it.
in 2009, "The Imaginarium of Doctor Parnassus" and "Public Enemies" were premiered, which received mixed reviews. But Depp was going to smash the Box office once again with his new character as Mad Hatter in the 2010 film adaptation of the Lewis Caroll classic "Alice in Wonderland" for which, once again, Johnny Depp teamed up with Tim Burton. The film which starred Mia Wasikowska as Alice brought the amount more than $116 million on the opening weekend.
In 2011 Captain Jack Sparrow was back riding the waves in his pirate ship the black pearl in the Fourth movie of the pirates of the Caribbean franchise. Depp also starred in "The Rum Diary" the same year, which was based on the book by Hunter S. Thompson. He again starred in Tim Burton's comedy "Dark Shadows"(2012) as Barnabas Collins, a vampire escapee who returns to his family home and tries to help his descendants. Depp encouraged his friend Burton to bring the movie, based on the source material of Johnny Depp's favorite 1960s gothic soap opera Dark Shadows. Michelle Pfeiffer, Chloe Grace Moretz, and Jonny Lee Miller played as decedents of the vampire.
Johnny's next big-budget film directed by the Pirates director Jerry Bruckheimer "The Lone Ranger," released in 2013. The film did poorly on the box office and also received very poor reviews from the critics and viewers alike. In 2015 Johnny Depp took the role of the notorious crime boss Whitely Bulger in the bio topic  "Black Mass". In an interview, Depp stated, "James Bulger is a fascinating creature, and we all want to know what drove him, I think."
He stated in the interview with IGN "As much as I want to talk to James Bulger and sit down and talk down with him and understand him, I also want to sit down with the victims' families and know the side as well. So, that is thrown in with the performance… I don't think it's easy as good versus evil, and I hope to show that in the film, and I hope to do everybody justice."
In 2016, Depp reappeared as The Mad Hatter in the sequel to Burton's latest take on Lewis Caroll's sequel to Alice in Wonderland; Through the Looking Glass received a bad review by the critics. In the same year, he appeared on the Movie adaptation of JK Rowling's "Fantastic Beasts and where to find them". The became a box office successful movie. Depp one again returned with "Pirates of the Caribbean: Dead Man Tell No Tales" in 2017. Even more, with the appearance in the adaptation of "Murder on the Orient Express."
Johnny Depp's Personal life
In 1999 while filming for the Sci-Fi dramas "The Ninth Gate," Johnny met French actress, singer, and model Vanessa Paradis. In May 1999, she became pregnant with a baby girl, Depp and Paradis welcome a daughter named Lily-Rose Melody Depp. This was a huge moment in Depp's life. He stated in an interview "Anything I've done up till 27 May 1999 was kind of an illusion, existing without living, My daughter, the birth of my daughter, gave me life.", three years later Depp and Melody welcomed their second child, son Jack John Christopher Depp II.
After 14 years of being together, Depp and Paradis split up in June of 2012. During a statement given by Depp's representative to Entertainment Tonight,  he said the pair "have amicably separated" and requested the people to "respect their privacy and privacy of their children."
In 2012, Jonny found another love interest at the set of "Rum Diaries" co-star Amber Heard. The couple engaged in 2013s Christmas eve and married in February 2015. However, they both divorced in May 2016. Heard filed a restraining order against Depp, accusing him of verbally and physically abusing her. 
In 2017, Depp involved in two lawsuits, one against his former business manager for claims of mismanagement of $650 million. While Depp Bodyguards sued him in May for unpaid wages and exposure to dangerous work conditions. For a successful and widely acclaimed actor, facing so many personal hurdles seems very unreal.