The name of Morgan Freeman is one of the Hollywood elites and among the most recognizable faces in the industry. Morgan Freeman, aged 81 was born in 1937, June 1 in the town of Memphis, Tennessee. He is one of the most loved and critically acclaimed Actors, Producer, and Narrator.  As a result, Morgan has won 1 Academy award for Best-Support Actor, a Golden Globe Award, a Screen Actors Guild Award and other 57 wins and a stunning 78 nominations.
Morgan won the Oscar Award in 2005 for best-supporting actor for his role in Clint Eastwood's 2004 movie "Million Dollar Baby". He is famous for his screen performances on "Glory" (1968), "Robin Hood: Prince of Thieves" (1991), Seven (1995), "The Sum of Fear" (2002), "The Shawshank Redemption" (1994), Unforgiven (1992), Bruce Almighty (2003), The Dark Knight (2008), The Sum of all Fears (2002) and Dolphin Tale (2011).
He got his nomination for the Oscar award for the best supporting actor on Street Smart (1987), Driving Miss Daisy (1989), The Shawshank Redemption (1994) and Invictus (2009). Known for his deep, soothing and authoritative voice Freeman has worked on many commentaries, voice-overs, and documentaries. He is also one of the most successful actors bringing in $4.31 billion in the box office. Also, an average box office millions of an astounding $74.4 million per film.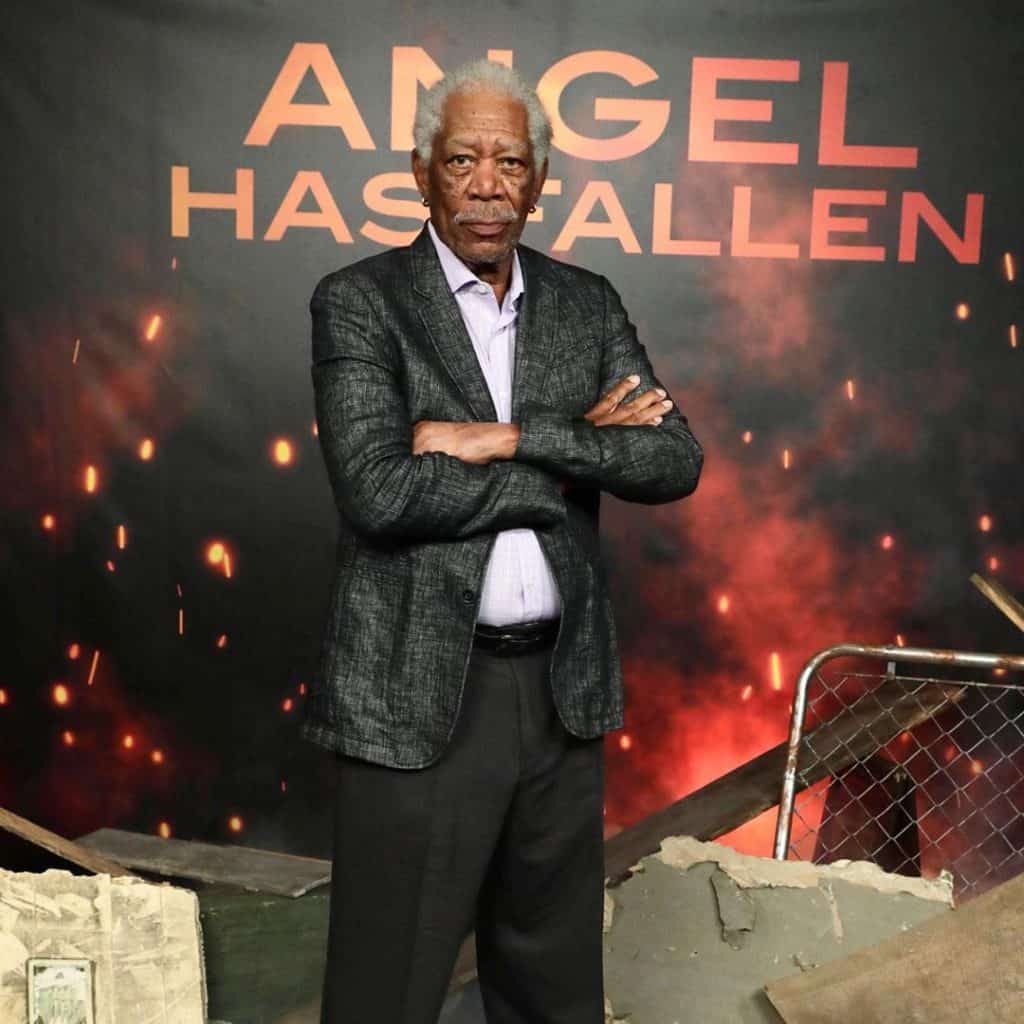 Morgan Freeman Net worth
Morgan Freeman has $200 million.
Height
He is 1.88 m tall.
Latest and Upcoming Movies
Morgan Freeman recently appeared in an American action thriller movie "Angel has fallen". Ric Roman Waugh directed the movie. However, the movie is the third installment in the fallen film series. The film was officially announced in October 2016. But due to some circumstances, the movie released on August 23, 2019.
Early Life
Morgan Freeman was born on June 1, 1937, to a school teacher mother, Mayme Edna (1912 – 2000) and a barber father, Morgan Potterfield. Morgan's father died on April 27, 1961, from Cirrhosis. From a recent DNA analysis of Moran Freeman, the report shows, he shared heritage form the African country of Niger. He was the youngest of five siblings. Like many African Americans at that time, Freeman's family also had faced difficulties in maintaining their lifestyle and earning money. So, Freeman moved to live with his Grandmother who lived at Charleston, Mississippi.
Later, when his grandmother died, he moved with his mother. His mother at that time had already divorced her alcoholic husband. He shifted very often in his childhood. Later, he lived in Greenwood, Mississippi, Gary, Indiana and finally settled in Chicago, Illinois. There, Pneumonia caught Freeman and has nearly lost his life.
The love for films and movies was seen early in the lifestyle of Morgan Freeman, as he spent a good portion of his time trying to scavenge money to go and see movies. Gary Cooper, Spencer Tracy, and Sydney Poitier have deeply influenced him. At the age of 9, the teacher punished Freeman for pushing the chair from under a girl whom he had a crush on. As a result, he has to take part in the school play performance as the lead. This turned out to be a blessing in disguise because Freeman gave a stunner performance, which stunned Freeman himself and also probably the teacher who gave him this task as a punishment.
He was also given top honors on the acting program. He later went to Broad Street High which was located on Greenwood. Mississippi. He was 12 when he performed in the school play while also winning State wide drama competition. He was still in Broad Street High when he performed in a radio show based in Nashville, Tennessee. Finally, in 1965 he graduated high school. And was immediately offered a partial scholarship for education in drama by Jason State University.  But he, unfortunately, declined the offer. It is because he had the hope of being a fighter pilot in his heart from a very young age.
Later, he joined the United States Air Force and even rose to Airmen 1st class, but he was soon disappointed. Instead of getting too sore high in the skies, he was mostly given ground jobs. There he worked as an Automatic Tracking RADAR maintenance man. However, Freeman gave a thought and decided he didn't want to be shooting and killing people. So, he finally left the United States Air Force after 4 years of service to pursue a career in acting. He moved to Los Angeles, California, which as we can see now was the correct decision.
Morgan Freeman Theatre and earlier career
Freeman stepped into the world of acting and entertainment after moving to Los Angeles, He began taking classes at the Pasadena Playhouse there. He also began taking dancing classes in the early 1960s in San Francisco. He worked as a transcript clerk at Los Angeles City College around the same time.  Freeman shifted and began living in New York City and later seen as a dancer in 1964's World's Fair. He later joined an Opera ring musical theatre group as a member of San Francisco. Freeman acted on the touring company of "The Royal Hunt of the Sun" and he also appeared as an extra in the 1965 film "The Pawn Broker".
He finally made his off-Broadway debut in 1967 where he appeared in "The Nigger Love", a play about Freedom Riders and their story in the time of the great American Civil Rights Movement, he played opposite Viveca Lindfors. Morgan Freeman finally made his big break with his debut in his Broadway hit "Hello! Dolly" a 1968's all-black version, working alongside Pearl Bailey and Cab Calloway.
Freeman won his first Obie Award for his title role in "Coriolanus" in the year 1980, and won his second Obie Award for his portrayal of a preacher in the play "The Gospel at Colonus" in 1984. For his role as "Wino" in "The Mighty Gents", he bagged a Drama Desk Award and Clarence Derwent Award. His performance as a Chauffeur for Jewish widower in "Driving Miss Daisy", won him his third Obie Award. He returned to Broadway under the direction of Mike Nicholas in Clifford Odet's "The Country Girl", starring alongside Frances McDormand and Peter Gallagher.
Morgan Freeman Movie Career
From 1970 to 1990
According to Morgan Freeman IMBD "Morgan Freeman first appeared on the TV screens as some memorable characters such as, Easy Reader, Count Dracula and Mel Mounds on the Children's Television Workshop "The Electric Company" alongside many future and current movie stars", while also appearing on the American soap opera "Another World". Although having appeared previously on stage, Freeman's first credited movie debut was in 1971's "Who says I can't ride a rainbow".  Freeman appeared as a small role in the 1973 thriller "Blade", as Casa in 1974's movie "Julius Cesar", even landing the title role in 1979 movie "Coriolanus". He later appeared in two prison movies; in the 1980's movie Attica and as a crazed inmate in "Brubaker" in the same year.
He was also in the cast of "Eyewitness" (1981) and as the final 24 hours of Slain Malcolm X in "Death of a Prophet". During most of the 1980s, he was playing mostly small and side roles in movies that were fluctuating in good and bad ratings. Freeman couldn't find the success he was looking for and went through a failing marriage too. Freeman finally divorced and started heavy drinking due to the stress and hardship brought by this brief career crisis.
Morgan Freeman came back into business with a bang in 1987, with his film "Street Smart", where his performance as a Volatile pimp and merciless hooligan, Fast Black earned him his first Oscar's nomination. Freeman once again brought attention to him when he grabbed a Golden Globe Award and another Oscar nomination for the 1989's Film adaptation of "Driving Miss Daisy" playing the same charming and stubborn chauffeur he had played early in the stage version. The same he appeared on another critically acclaimed movie "Glory", alongside stars Matthew Broderick and Denzel Washington, this movie was about 54th Massachusetts Infantry Regiment, the only acknowledged African-American unit in Civil war.
From 1990 to 2010
In 1990's Morgan Freeman Movies and film career were climbing into new heights and enjoying success. He appeared in the 1990's "The Bonfire of the Vanities", in the 1991's "Robin Hood: Prince of Thieves", "The power of one" in 1992. He also featured in Clint Eastwood's de-mythologized western "Unforgiven" in 1992. Morgan Freeman Directorial debut came in 1998 with the movie "Bopha!" The same year he opened his first production company, Revelation Entertainment.
He achieved his third Academy Award nod with his performance as a knowledgeable and friendly inmate, Red who befriends the false murder accused banker Tim Robbins in the 1994's award-winning classic "The Shawshank Redemption", he was back hunting a religious serial killer in 1995 film "Se7en". Later, he appeared along with Keanu Reeves in "Chain Reaction" (1996), he was later chasing yet another serial killer in "Kill the Girls" (1997), also starring in slave tale "Amistad" (1997), in the big-budget movie "Deep Impact" (1998) and later in Neil Labute's dark comedy "Nurse Betty" (2000) and in "Along came a spider" (2001).
Due to his smooth and booming voice, Freeman landed the role of the most commanding figure, God himself in the 2003 comedy movie "Bruce Almighty" and the resulting sequel in 2007 "Evan Almighty". He finally bagged the long due Oscar award in 2005 for the best supporting actor on Clint Eastwood's 2004 movie. He appeared on the Batman franchise as the character Lucious Fox on "Batman Begins" (2005). Also, in further blockbuster sequels "The Dark Knight" (2008) and "The Dark Knight Rises" in 2010.
From 2010 to the present
Even more, he appeared in Rob Reiner's "The Bucket List" in 2007, co-starred with actor Bruce Wills in 2010's film Red. He wanted to do a Nelson Mandela Bio-pic for a long time. Finally, he was able to act on the role in Clint Eastwood's Nelson Mandela Biopic, "Evicted". In 2013 he appeared in three movies "Olympus has fallen" and "Las Vegas". IN 2014 he was the co-star in the hit movie "Lucy". He has also appeared in many hit movies and given his previous movies to different documentaries
When asked about his characters and roles, Morgan Freeman said "I like being eclectic," "The more varied the better; the wider the range. I've been sucked into a kind of mold of a good guy and that's actually almost beyond my ability to control. But other than that, a good story and an interesting character are all I am looking for."
On the 2012 Golden Globe Awards, Freeman was awarded Cecil B. DeMille Award for "Outstanding contributions to the world of entertainment". In September 2016, Barak Obama gave the National Medal of Arts. According to the President, he awarded this medal "for Freeman outstanding work as an actor, director, and narrator. His iconic stage and screen performances have brought to life characters from the whole spectrum of the human experience, moving audiences around the world, and influencing countless young artists."
Morgan Freeman Personal Life
The $200 million net worth man, Morgan Freeman currently lives in Charleston, Mississippi and in New York City. He owns and operates, Ground Zero, a blues club in Clarksdale, Mississippi. He also previously co-owned Maldini, a fine dining restaurant. The previously US Airman, Freeman owns 3 private jets, including Cessna Citation 501 Jet, Cessna 414 twin-engine prop and he expanded his inventory when he received Emivest SJ30 long-range private jet in December 2009. He has an official flying license and is capable of flying all the planes in his inventory. When Morgan Freeman was concerned with the number of decreasing Bees in the world. He owned a 124 acre Bee sanctuary.
On August 3, 2008, Morgan Freeman involved in a near-fatal car accident, in Mississippi near Ruleville. While driving a 1997 Nissan Maxima, the car went out of the highway and began rolling many times. Eventually, the rescue team rescued Freeman and his co-passenger Demaris Mayer and sent them to the hospital. Freeman had a broken Left Shoulder, Arm, and Elbows and underwent surgery on Sep 5, 2008. Freeman has reported that even though he's a left-hander person he is not able to move his left fingers. Although the influence of alcohol was suspected, the police denied the reports.
Morgan Freeman Sexual Harassment charges came to light on May 24, 2018, when CNN revealed the results of an investigation. In which 8 girls accused the freeman of sexual misconduct and further 8 women reported in observing the actor's misconduct. The actor reportedly apologized and said "Anyone who knows me or has worked with me knows I am not someone who would intentionally offend or knowingly make anyone feel uneasy. I apologize to anyone who felt uncomfortable or disrespected — that was never my intent."
Morgan Freeman first married on October 22, 1967, with Jeanette Adir Bradshaw. The couple divorced on Nov 18, 1979. He has 2 extramarital children. He later married to Myrna Colley-Lee on June 16, 1984. However, the couple separated in Dec 2007 and finally legalized their divorce on Sep 15, 2010. Corey-Lee and Freeman had adopted the stepdaughter E'dena Hines of the first marriage of Morgan Freeman. The couple raised them together. But, unfortunately,  on August 16, 2015, Hines was murdered in New York City. She was just 33 at that time.
Morgan Freeman is a legend in the field of acting, appearing in hits worldwide while also appearing in many commentaries. Despite being 81 years old, he is very active in Hollywood and we wish him all the best.