Peter Hayden Dinklage is an American actor and producer. He was born on June 11, 1969, in Morristown, New Jersey. However, the winner of 'Golden Globe Award' born with a physical disorder named as 'achondroplasia' which is a common form of 'dwarfism.' 
Peter Dinklage has played the role of Tyrion Lannister in the HBO series Game of Thrones for which he won an 'Emmy Award' for Outstanding Supporting Actor in a Drama Series. Furthermore, he worked for the series, Miniseries or Television film in 2011 for which he won a Golden Globe Award for Best Supporting Actor. He has worked in several films and theatre plays.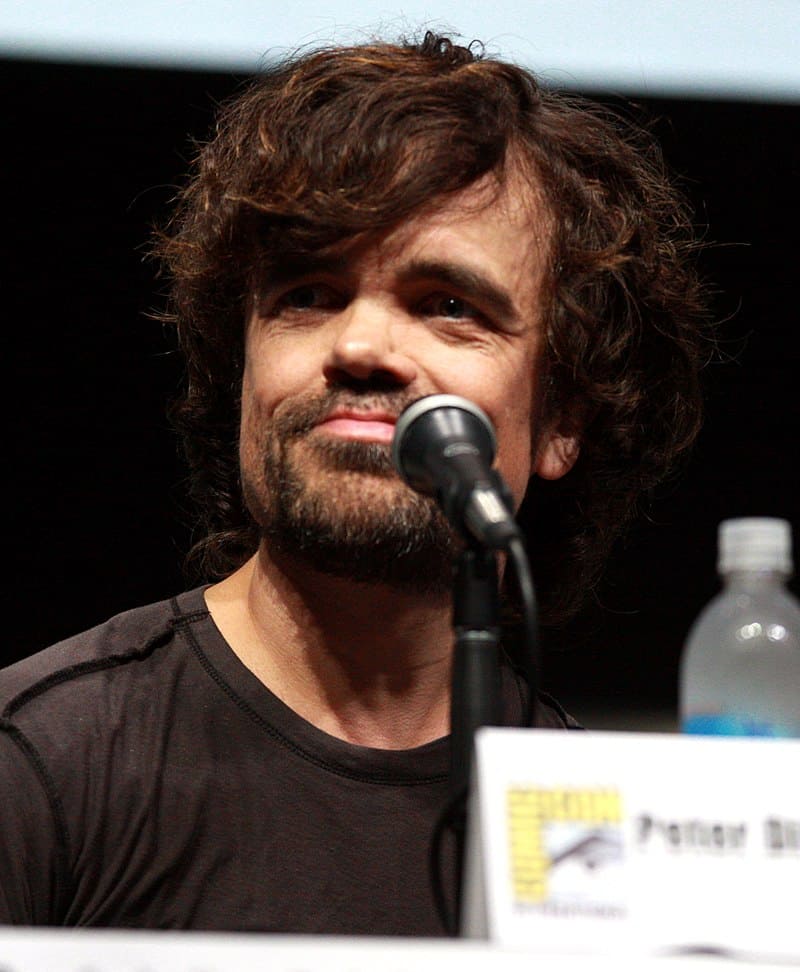 Height
Peter Dinklage is 4 ft 4 inch (1.32m) tall.
Early Life
Peter Hayden Dinklage was born in Morristown, New Jersey. His father is John Carl Dinklage, who was an insurance salesman and mother is to Diane (Hayden) Dinklage, who was an elementary- school music teacher. However, he has ancestry related to German, Irish, and English. So, his surname belongs to German?  Certainly, he was born with physical disorder achondroplasia which relates with a form of dwarfism in which the body is formed perfectly but has a disorder in bones; the long bones of the legs and arms do not grow finely.
Dinklage pursued a degree in drama from Bennington College in 1991 and started his career. Similarly, Peter Dinklage studied theology.
During Dinklage's early age he and his brother used to perform puppet musicals for people in their neighborhood. However, Dinklage describes his brother, a violinist, as being the "real performer of the family." So, He says that his brother's passion for the violin was the only reason that kept him from pursuing acting.
To add, he joined Delbarton School, which is a Catholic preparatory school for boys. There he developed his acting skill more perfectly. Dinklage was inspired by a production of the play True West (1984) which was written by American playwright Sam Shepard, because of which he pursued a career in acting.
Then after, Dinklage attended Bennington College to study a drama degree. He appeared in numerous productions before graduating in 1991. Dinklage and his friend Ian Bell moved to New York City to build a theater company. But they failed to pay the rent and moved out of their apartment. Then for six years, he worked at a data processing company before pursuing an acting career as a full-time job.
Star Sign
Peter Dinklage star sign is Gemini
Spouse
On 16 April 2005, Dinklage married Erica Schmidt who is an actress and theatre director. 
Children
Peter Dinklage and Erica Schmidt have one girl child. But, they have not publicized their daughter's name until now. They gave birth to their second child in 2017 but have not revealed the name and gender of their second baby.
Early Career
Firstly, he made his debut film in the low-budget independent comedy-drama 'Living in Oblivion' (1995). There, he performed next to Steve Buscemi, who is an actor and comedian. However, the film represents the story of a director, cast, and crew filming a low-budget independent film in the center of New York City. Dinklage played the role of a frustrated actor who suffered dwarfism and complains about his clichéd roles. However, the critics criticized the film positively.
Even more, he appeared as a building manager in the crime drama 'Bullet' starring Tupac Shakur, who is a rapper by profession. He received positive performance in 'Living in Oblivion.' But still, he could not discover someone willing to be his trustworthy agent. However, Later he got a recommendation from Buscemi to the director Alexandre Rockwell for which Dinklage appeared in the comedy '13 Moons' (2002). He was later interviewed for a theater website. And, he was asked about his ideal role, and he answered, "the romantic lead."
Peter Dinklage Notable Success
In 2003, Dinklage played the role of Finbar McBride as a quiet, withdrawn and unmarried man. Tom McCarthy is the director of the film 'The Station Agent.' The film took 3 years to make. Initially, the movie was not written for Dinklage. But he was attracted to the character that McCarthy had written because it was not from the list of the stereotypical roles people with dwarfism play.
The character of McBride has "romantic feelings" as well as "anger and … flaws." He earned the 'Film Independent Spirit Award' for that role and 'Screen Actors Guild Award' for 'Best Actor nominations.' For this movie, reviewer Andrew Sarris wrote in the New York Observer, "Dinklage projects both size and intelligence in the fascinating reticence of his face." 'The Station Agent' earned over $8 million against its small budget, and it was amazingly successful at the box office.
Peter Dinklage some of best works are; 'Elf' (2003), 'Find Me Guilty' (2006), the original English 'Death at a Funeral' (2007), its American remake 'Death at a Funeral' (2010), 'Penelope' (2006), 'The Chronicles of Narnia: Prince Caspian' (2008) and X-Men: Days of Future Past (2014) are also included in his brilliant work concerning feature films.
Dinklage's successful work in television includes some of the shows such as 'Entourage' (2004), 'Life as We Know It' (2004), 'Threshold' (2005) and 'Nip/Tuck' (2003). The chief role of Tyrion Lannister, who is a man of sharp wit and bright spirit, in 'Game of Thrones' (2011). The series personified and expressed the unique greatness in Dinklage's unparalleled performance. The series has an adaptation of author George R. R. Martin's A Song of Ice and Fire series. So, for his work and role, he received widespread praise and positive response.
He also received the Emmy Award for Outstanding Supporting Actor in a Drama Series at 'The 63rd Primetime Emmy Awards' (2011) and The 67th Primetime Emmy Awards (2015). Similarly, he received the 2012 'Golden Globe Award' for Best Supporting Actor for his work on Series, Miniseries and Television Film.
Dinklage gave his voice for the character Captain Gutt in Ice Age: Continental drifted in 2012. He starred in the comedy-horror movie Knights of Badassdom and portrayed the role of Bolivar Trask in the superhero film 'X-Men: Days of Future Past.' Dinklage voiced as The Mighty Eagle in the movie in 'The Angry Birds' (2016) 
Awards
In 2012, Dinklage won the 'Golden Globe Award' (2012) for the Best Performance by an Actor in a Supporting Role in a Series, Miniseries and Motion Picture Made for Television 'Game of Thrones' (2011) 
He won the 'Primetime Emmy Award' in 2011 for Outstanding Supporting Actor in a Drama Series named as 'Game of Thrones' (2011). He got the award for the role of "Tyrion Lannister."
In 2017, he won the 'Chicago Independent Film Critics Circle Awards' (CIFCC Award) for Best Ensemble Cast and shared with other cast members; Abbie Cornish, Woody Harrelson, John Hawkes, Lucas Hedges, Zeljko Ivanek, Caleb Landry Jones, Frances McDormand, Sam Rockwell, Samara Weaving.
Again in 2018, he won the 'Gold Derby Awards' and shared with other crew members.
For Drama Supporting Actor in 'Games of Thrones,' he won 'Gold Derby Awards' in 2015, 
He won the 'New York Film Critics, Online' Award for his Breakthrough Performance in 'The Station Agent' (2003) in 2003.
He won the 'Scream Award' in 2011, for Best Supporting Actor in 'Games of Thrones.'
Dinklage Works as Producer
Dinklage has worked as a producer for the sci-fi drama 'I think we're Alone Now' (2018). He worked as an executive producer for TV movie 'My Dinner with Herve' (2018). He has also worked as an executive producer for the movie 'Knights of Badassdom.' (2013). Likewise, he worked as a producer for the movie 'Pete Smalls Is Dead.' (2010)
Peter Dinklage is going to work as a producer for the movie 'The Dwarf' (upcoming movie).
Similarly, he is going to work as a producer for the movie 'The Thicket' (forthcoming movie)
Dinklage will lend his voice to 'The Croods' 2. This movie is also the upcoming movie of Peter Dinklage, which is going to release in December 2020.
Dinklage in Social Media
Dinklage doesn't hold any sort of official accounts in Social networking sites. But you can find some pages made by his fan. Although those pages are unofficial, they are pretty famous in social media.
Peter Dinklage Twitter Fan Account: https://twitter.com/peter_dinklage?lang=en
Peter Dinklage: Net Worth
Peter Dinklage, an American actor, holds the Net Worth of $15 million. His profession is Actor, Producer and voice actor.
Publicity Listings
He attended 3 interviews; Entertainment Weekly (US) on March 28, 2014, Iss. 1304, pg. 28, by James Hibberd.
Playboy (US) in May 2013, Vol. 60, Iss. 4, pg. 70-72, 131-132, by Eric Spitznagel, "20Q: Peter Dinklage."
Moving Pictures Magazine (US) on February 1, 2006, Vol. 3, Iss. 9, pg. 20-23, by Elliot V. Kotek, "Peter Dinklage: Force of Nature" 
He also appeared in 9 articles, 2 pictorials, appeared for three magazine covers, etc.
Trivia
Dinklage was engaged to theater director Erica Schmidt on November 2004.  Most noteworthy, he was born with achondroplasia which is a form of dwarfism in which the body has perfect formation, but the long bones of the arms and legs, do not have proper growth. A fine portrait of a man with this condition which hangs in the Prado in Madrid was painted by Velázquez. 
Dinklage is a vegetarian. Whenever he is seen eating a meat product on screen, it is a tofu product (such as the tofu "beef" jerky),.
He is a son of an elementary school music teacher and retired insurance salesman who is of average height, as is the older brother, John who is a violinist.
George R.R. chooses Dinklage as Martin's first choice to play "Tyrion Lannister" in Game of Thrones (2011).
During his acceptance speech for the Golden Globe, Dinklage called attention to the plight of a dwarf Martin Henderson who was crippled after being attacked by a rugby player outside a bar.
Peter delivered the 2012 Commencement speech at Bennington College (Vermont). Most important, he is a 1991 graduate with a degree in drama from Bennington College.
He has both a dog and a dog walker named Kevin.
Furthermore, he turned down many roles in fantasy films even as a struggling actor, out of fear of being typecast as a magical dwarf or little person. He lives inexpensive New York City, but he admitted that he would time and again be so short due to money and his dinner consisted of a bag of crisps.
Personal Quotes
"[After winning a Golden Globe for his performance in Game of Thrones (2011)] I was talking to my mother in Jersey before I came out and she said, "Have fun but have you seen Mildred Pierce (2011)? Guy Pearce is so good. He's gonna win." So I haven't seen "Mildred Pierce," but I'm sure he's really good, and I just love our moms because they keep us humble."
"I think a lot of great male comic actors are introspective, quiet personalities, which I really admire. But they are really able to turn it up when the camera's on."
"I used to be a sullen kid who smoked cigarettes and wore black every day. And I went to a school that was lacrosse players and Izods."
"I should call people back more readily. I'm not the best friend sometimes in terms of that. I do follow that white balloon and get distracted a lot."
"Game of Thrones (2011) is an amazing show, and I have no problem speaking of the virtues of HBO."
"I'm a private person in many ways."
"I'm on Game of Thrones (2011), and every time we have someone new coming on our show, we welcome them with open arms. Then we kill them off very quickly."
"I spend my nights just sitting and reading a book and drinking my tea and walking my dog. That's about as exciting as my life gets."
"What I really want is to play the romantic lead and get the girl."
"I think actors get too comfortable. But I like being uncomfortable as an actor because it keeps you alive. And I don't know; I think it's important."
"I never lived in an abandoned railroad station."
"Writing is getting killed by too many chefs. Back in the [Humphrey Bogart] days, it started with great scripts. You had a writer, and he wrote a script, and that was your movie. I think that's been watered down a bit lately."
"Any swagger is just defense. When you're reminded so much of who you are by people – not a fame thing, but with my size, constantly, growing up–you just either curl up in a corner in the dark or you wear it proudly, like armor or something. You can turn it on its head and use it yourself before anybody else gets a chance."
"That's one of the things about theater vs. film–with theater, actors have a little more control, and one of the disappointing things about films is that once you're done the shooting, anything can happen, you know?"
"Being on television, playing the same character for many years, for me, I think that would get a little tedious."
"I don't socialize. I'm kind of a hermit. The life of an actor can be very lonely."
"George R.R. Martin is an incredible writer."
"I think if actors are successful at one thing, they paint themselves into a corner sometimes, and what's the fun in that?"
"I dress and eat like a fifth-grader, basically. Likewise, I like sandwiches and cereal and hooded sweatshirts."
"My family had a habit of collecting creatures that didn't always want to be petted. The first animal I can remember is a Lab, named Zoe."
"I do not fault anyone else who makes choices to play characters that they wished they hadn't . . . Because at the end of the day, none of us are happy with our jobs all the time."
"Dwarves are still the butt of jokes. It's one of the last bastions of acceptable prejudice."
"My brother, who's a violinist now, was the real ham, the real performer of the family. His passion for the violin is the only thing that kept him from being an actor."
"I like playing the guy on the sidelines. They have more fun."
"I love working with the same actors repeatedly. That happens a lot. It's kind of inevitable, especially if you work with the same writers and directors and you start to form a company of actors. You gravitate towards each other."
"I was fortunate enough to have an upbringing that made me more accepting of who I am."
"I just think the less you know about an actor, the more serious you'll take them as an actor because they will disappear a little bit."
"My favorite superhero? I have a soft spot for Batman because he doesn't have any superpowers–he's just a person. And he's pretty dark."
"Maybe everyone is a little too reassuring that things are going to be OK for college graduates. It gives them a false sort of security."
"I was born in 1969, believe it or not, so I was a child in the '70s."
"I feel really lucky; although I hate that word-'lucky.' It cheapens a lot of hard work. Living in Brooklyn in an apartment without any heat and paying for dinner at the bodega with dimes-I don't think I felt lucky back then. Doing plays for 50 bucks and trying to be true to me as an artist and turning down commercials where they wanted a leprechaun. Saying I was lucky negates the hard work I put in and spits on that guy who's freezing his ass off back in Brooklyn. So I won't say I'm lucky. I'm fortunate enough to find or attract very talented people. For some reason, I found them, and they found me."
Personal Life
Peter Dinklage married Erica Schmidt in 2005 who is a theater director and actor as well. They have not revealed the name of their daughter, who was born in 2011. He has also denied media reports that his baby girl's name is "Zelig." Dinklage and Schmidt gave birth to a second child in 2017 but never revealed the name and gender of their second baby child.
In the 1990s, Dinklage's injured his face in a "punk-funk-rap" named as Whizzy. The accident happened while he was playing at the nightclub CBGB in New York City, which gave him a mark and dark scar that is from his neck to his eyebrow.
Dinklage defined himself as a lapsed Catholic in 2008. He is a vegetarian, and he also advocates for animal rights. However, he supports Farm Sanctuary and has been serving as the spokesperson for the organization's 'Walk for Farm Animals.'
He has narrated the documentary video 'Face your Food,' a film on behalf of PETA advocating a vegan diet on ethical grounds. He has also attended the Women's March demonstration in Park City in 2017, to advocate legislation and policies regarding human rights and other issues.