Sir. Ian Murray McKellen was born in England, Lancashire, Burnley, on 1939, May 25. McKellen's parents were Margery Lois and Dennis Murray McKellen. With a five year senior sister, Jean, McKellen is the second child and a younger one in his family.
McKellen's father, a Protestant Irish and of Scottish descent, was a civil engineer and a lay preacher.  McKellen belonged from a long line of preachers. However, both of his grandparents were preachers, and his great-great-grandfather was a strict Protestant Minister. The actor later brought up in a Christian Family.
Many critics considered Ian McKellen as one of the greatest actors in stage and screen. Noteworthily, two times Oscar-nominated and 50 other wins along with 55 nominated.
He has won every major award from theatrical acting in the United States and the United Kingdom. Ian McKellen has also received six Laurence Oliver Awards, a Tony Award, a Golden Globe Award, a BIF Award, a Screen Actors Guild Award, two Saturn Awards, and also two Critics' Choice Award. He has also received two Oscars, four BAFTA, and five Emmy Award nods.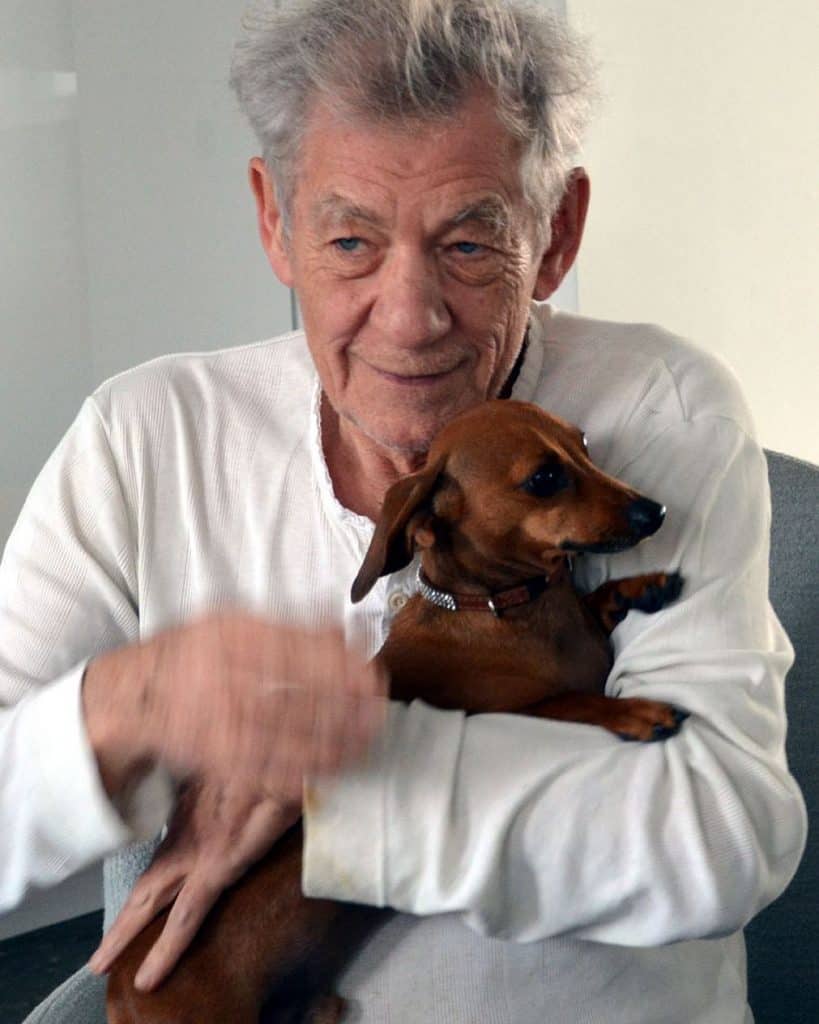 Age
McKellen is 80 years old.
Height
McKellen is 1.8 m tall.
Early Life
McKellen and his family moved to Wigan, shortly before the outbreak of the great Second World War in 1939, September. Furthermore, At the age of twelve, McKellen and his family moved to Bolton in 1951. Even though he spent eleven years of his life in Wigan, he still refers to Bolton as his home town.
At the age of 12, Ian faces the unfortunate event of the death of his mother due to breast cancer. However, he also lost his father at the age of 24.  He came out to be gay to his stepmother, who took it very easy and was a massive support for his during the time. McKellen attended Bolton School and received his steps to acting career from Bolton Little Theatre. At the age of three, seeing Peter Pan at the Opera House in Manchester, he attracted to acting and theatre.
In 1958, McKellen won a scholarship to St Catherine College, Cambridge; he was 18 at that time and began reading English Literature. While living at Cambridge, he became a member of the Marlowe Society and appeared in 23 plays in 3 years.
Early Career
Ian McKellen is famous for being the British cultural icon, having worked from plays of well-known playwrights, such as Shakespeare to playing iconic roles in modern movie franchises such as "Lord of the Rings"  and "X-Men," appearing in the era-defining roles in many of them. He started his theatre career professionally at Belgrade Theatre in 1961.
McKellen made his first West End appearance in 1965. Most importantly, in 1969, after his performance, Prospect Theatre Company invited McKellen to join them. There he established himself as one of the countries' best classical actors for his performance as the lead part in Shakespeare's "Richard II," along with Marlowe's "Edward II,". In 1970, McKellen involved with the very famous Royal Shakespeare Company as became a stalwart. Also, he joined the National Theatre of Great Britain. In the field of acting, McKellen became famous and admired for his performance as; Titular King in "Richard III" (1995), as James Whales in the 1998's "Gods and Monsters", as the super mutant and the evil character of Magneto in the "X-Men Films" and also as the evergreen Gandalf in the famous "Lord of the rings" and "The Hobbit" trilogies.
In the 1979 Birthday Honors, McKellen was appointed "Commander of the Order of the British Empire" and finally knighted in the 1991New Year Honors for the service to the performing arts. In the 2008 New Year Honors, he became a Companion of Honors for service to drama and equality. He came out as gay in 1998 and seen openly embracing it. In October 2014, He became a Freeman of the city of London.
Official Career
Ian McKellen: 1960s-1980s
His first professional appearance was as Roper in "A Man for All Seasons,". The movie released in 1961 and shown at the Belgrade Theatre. After spending four years in the regional repertory theatres, he made his West End debut with "A Scent of Flower,". However, the movie regarded as a notable success. In 1965, he became a member of Laurence Oliver's National Theatre Company. Most importantly, there he lands roles at the Chichester Festival. His Breakthrough role came at the Edinburg Festival in 1969. Thus, for his performance as Richard II and Marlowe's Edward II, the part of Edward caused a massive uproar over the enactment of the homosexual Edward's lurid death.
In 1969, McKellen debut with the movie "A Touch of Love" in which he played the role of George Matthews. Furthermore, McKellen landed his first leading role in the 1980's film "Priest of Love," where he appeared as D.H Lawrence.
In the 1970s and 80s, McKellen was an active actor frequently performing at the Royal Shakespeare Company and Royal National Theatre. He became a well-known figure in the British theatre sector. Even more, he played a lot of Shakespearean roles like the title role of Macbeth on Macbeth, as Lago in Othello and in other award-winning productions directed by Nunn. However, the two acts produced later for TV under the direction on Nunn.
Ian McKellen: 1990s-2003
In 1990, the actor began becoming widely renowned with his performance on several blockbuster Hollywood films. In 1993 appeared as a South African tycoon, a minor and supporting role in the critically acclaimed "Six degrees of separation", where he was co-starring alongside Stockard Channing, Donald Sutherland and Will Smith. He appeared on TV serried based on the novel of his friend, Armistead Maupin, on mini-roles in Tales of a city. He later played as death on "Last Action Hero."
In 1993, McKellen nominates for Emmy Award for Outstanding Supporting  Actor in a Miniseries or Movie for his appearance on the television film "And the band played on" about the discovery of the AIDS virus. He also won Cable ACE Award for Supporting Actor in a Movie or Miniseries. He also portrayed Richard III, set on the alternate history, established in 1930 and imagined as Fascists in "Richard III ruled England." The performance helped him get a BAFTA, and Golden Globe nods for the best actor. Along with that, he also won the European Film Award for Best Actor, and his screenplay for the movie was met with a nomination for BAFTA Award for Best Adapted Screenplay.
During the shooting of the X-Men movies, McKellen was given a role as the famous wizard, Gandalf, in the Peter Jackson's trilogy film adaptation of "The Lord of the rings", which consisted of ; "The fellowship of rings" in 2001, "The Two Towers" in 2002, and "The Return of the king" in 2003. He bagged the Screen Actors Guild for Best Supporting Actor for his brilliant performance in The Fellowship of the ring. He also received a nomination for Academy Award for Best Supporting Role.
Ian McKellen: 2007-2018
Ian McKellen returned to the Royal Shakespeare Company, in 2007, where he worked on the direction of Trevor Nunn in the production of King Lear and The Seagull. McKellen performed on the very famous revival of Waiting for Godot in 2009 at the London's Haymarket Theatre, which was under the direction of Sean Mathias, where he was playing alongside Patrick Steward.  He has been the patron of the English Touring Theatre and has also been the President and Patron of the Little Treasure of Great Britain. He was on the opening ceremony of August 2012, where he was portraying Prospero from "The Tempest."
In 2017, the month of October, McKellen played as King Lear at Chichester Festival Theatre. Despite it being claimed by the actor to be the final Shakespeare act, he would later go on to perform at the Duke of York's Theatre in the summer of 2018, at London's West End.
He appeared on "Apt Pupil," directed by Bryan Singer, which was based on a story of Stephen King. McKellen also portrayed a Nazi officer living under a fake alias in the US and who later got blackmailed by a teenager  who wanted to know his story, He got nominations for Academy Award for Best Actor for the 199's "Gods and Monsters", he played as the director of "Show Boat" (1936) and "Frankestine", James Whale. I am McKellen's iconic role as the comic supervillain Magneto in the film "X-Men" which was released in 2000 and on the future sequels; "X2: X-Men United" (2003) ," X-Men: The Last Stand" (2006), "X-Men: Days of future past" (2014), where he made a brief cameo. He didn't appear on "X-men: First Class" but shared the younger version of Magneto with Michael Fassbender on the film released in 2011.
Other movies and TV shows
McKellen has also hosted a Saturday Night Live, he appeared and hosted the comedy weekend program on March the 16th of 2002. In the British-themed episode, "The Regina Monologues," McKellen gave his voice on the animated cartoon hit show "The Simpsons," other famous people who had to lend their voice for this show were, UK Prime Minister Tony Blair and the renowned author of the "Harry Potter" series. He also played a role in long-running soap opera, "Coronation Street," where he played the role of Mel Hutchwright. He also gave his voice for the film "Eighteen" as a grandfather leaving his memories of a world war for his grandkid.
Other movies he involved included "Emilie," "Never Was" and "Asylum," He performed as Sir Leigh Teabing in "The Da Vinci Code." In 2006 McKellen performed on BBC comedy series "Extras" in a play about gay lovers. Ian McKellen received a Primetime Emmy Award for Outstanding Guest Actor- Comedy Series in 2007 for his role in "Extras," He performed in "The Prisoner" (2009) as Number Two, which was the remake of cult series of 1976 "The Prisoner." McKellen Co-starred in ITV sitcom "Vicious" alongside Derek Jacobi, as Freddie Thornhill, a series seeing a gay couple who has been together for 50 years.
However, McKellen also has given his voice for many video game adaptations of this, Ian McKellen movies. He again revived the role of Gandalf on Jackson's film adaptation of book series "The Hobbit," another trilogy that ran from 2012 to 2014. McKellen appeared on the famous British series "Doctor Who" for the 50th-anniversary comedy homage "The Five(ish) Doctor Reboot," in November 2013.
Ian McKellen: Personal Life
McKellen has been openly gay, and his first partner was Brian Taylor, who is a history teacher from Bolton, with whom he was in a relationship with for eight full years before finally ending in 1964. In1978, McKellen involved in another relationship; he met his second partner, Sean Mathias, in the Edinburgh Festival. The relationship lasted until 1988 and reportedly marked with lots of conflict about the career of the two actors. But the pair remained as partners; Methias directed McKellen in the act "Waiting for Godot" in 2009 at Theatre Royal Haymarket, and they later joint hands on a business partnership with Evgeny Lebedev, purchasing the lease on "The Grapes" public house located in Narrow Street. Ian McKellen Husband is nonexistent as the actor is single.
Ian McKellen Health
Despite being born to a deeply religious and family of pastors, McKellen is an Atheist. Although McKellen was not a pescetarian diet follower from earlier, he followed the diet after he lost his appetite for meat. In 2001, McKelle awarded the Artist Citizen of the World Award of France.
McKellen was diagnosed with prostate cancer in 2006 and 2012, but the actor blogged, "There is no cause for alarm. I am examined regularly, and the cancer is contained. I've not needed any treatment." He was also awarded as an ordained minister of Universal Life Church in 2013, to preside the marriage of his good friend and the X-men universe Dr. Charles Xavier, Patrick Steward Sunny Ozell, a famous female singer.
Ian McKellen: Other Work
Ian McKellen has been a very active activist in the field of the LGBT community and also involved in various speeches and rallies. He has also encouraged people to come out and accept themselves. He has been a respected and loveable person of the LGBT community and has received many honors and awards for his involvement.
McKellen is also an active charity worker who has got his hands on different charity works and donations. Ian McKellen is a good human being, an outstanding activist, and the best in the business actor and theatre actor.