A foil fencer is an individual who competes in fencing competitions using only a foil and no other weapon. The popularity of foil fencing is growing around the world. Many people from all over the world compete in foil fencing at national and international games. Among those people, Lee Kiefer is a professional foil fencer who is able to secure her place in top positions.
Quick Bio
| | |
| --- | --- |
| Full Name: | Lee Kiefer |
| Date of Birth: | June 15th,1994 |
| Current Age: | 27 years old (as of 2021) |
| Father's Name: | Steven Kiefer |
| Mother's Name: | Teresa Kiefer |
| Height: | 5 feet and 4 inches |
| Weight: | 108 lbs(49 kg) |
| Place of Birth: | Cleveland, Ohio, United States |
| Profession: | Athlete |
| Salary: | Unknown |
| Net Worth: | $1million -$3 million |
Basic Information
Lee Kiefer is a right-handed foil fencer born on June 15th, 1994 in Cleveland, Ohio, U.S. She graduated from Paul Laurence Dunbar High School in 2012 with a high school degree. Her mother Teresa was a psychiatrist whereas her father was a neurosurgeon, who once captained the Duke University, fencing team.
Kiefer has a sister, who is a doctor and a former Harvard foil fencer. Her younger brother, Axel, was the gold medal winner in the 2015 USA Fencing National Junior Championship and a fencer for the University of Notre Dame, coming in second in the NCAA Championship.
Physical appearance
Kiefer has a height and weight of 5'4″ and 108 pounds. She also has black eyes that are surrounded by long eyelashes. Her hair is long and dark blonde. It can be styled into different styles such as curls or braids. Plus, she has a great smile that makes her look younger than her years. She's also very friendly and outgoing and her personality shines through in everything she does.
Career
Kiefer graduated from the University of Notre Dame in the year 2017, after fencing for the Fighting Irish. She is currently studying medicine at the University of Kentucky College of Medicine.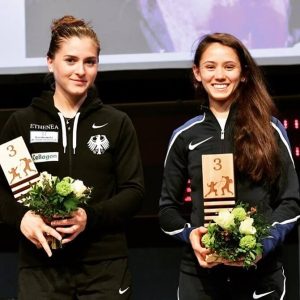 At the World Fencing Championships in 2011, Kiefer earned a bronze medal in the Women's foil.  She finished fifth in the London Olympic Games after being beaten in the quarter-final by Arianna Errigo. In the 2014–15 season, she earned her first World Cup podium with a silver medal in Saint-Maur. Kiefer won the Algiers World Cup in early 2015 after defeating world No.1 Arianna Errigo, who had defeated her in Saint-Maur. After her win at the Long Beach Grand Prix on March 18, 2017, she moved into the top spot in the FIE world rankings, becoming the first American woman to hold the top spot.
Moreover, Kiefer qualified to represent the United States in fencing at the 2020 Olympics in Tokyo in 2021. There, she won a gold medal in the individual foil. In the final, she won gold with a score of 15–13 against the defending champion Inna Deriglazova. She is the first American male or female to win an individual gold medal in the Olympics. The epitome of dedication and skill, Lee Kiefer is an example for those who think that sports and academics can't be balanced.
Medal Records
Olympic Experience
Three-time Olympian (2012, 2016, 2020), one-time Olympic medalist (gold)
London 2012, 5th (individual), 6th (team)
Tokyo 2020, gold (individual), 4th (team)
Rio 2016, 10th (individual)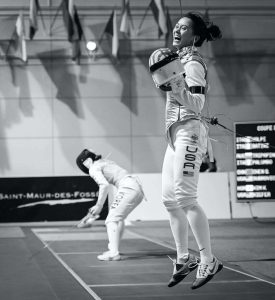 World Championship Experience
Most recent: 2019 – bronze (team), 5th (individual)
Years of participation: 2009, 2010, 2011, 2013, 2014, 2015, 2016, 2017, 2018, 2019
Medals: 4 (1 gold, 1 silver, 2 bronzes)
Gold – 2018 (team)
Silver – 2017 (team)
Bronze – 2019 (team); 2011 (individual)
Others
2015 Pan American Games, gold (individual); silver (team)
2011 Pan American Games, gold (individual, team)
Net Worth and Salary
According to Forbes magazine, Kiefer's net worth is $2 million dollars. This figure includes her salary as well as any prize money she earns during tournaments. However, it doesn't include any personal assets like cars or houses.
 Her net annual salary is still under investigation. As soon as her salary is known, we will update the information.
Relationship Status
The foil fencer Gerek Meinhardt and his partner, Kiefer, started dating in January of 2012. The couple got engaged in January of 2018 and married in September 2019. She doesn't have any children according to our database.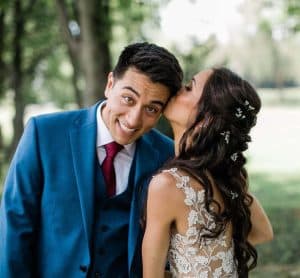 Social Media Status
Lee Kiefer is a prolific user of several popular social media platforms such as Facebook, Instagram, and Twitter. There are over 6k people following her on Facebook. She has a total of around 30.6k followers on her Instagram handle.
Furthermore, there are more than 3k fans following her on Twitter. Her most-followed tweet was posted back in August of 2018 when she announced that she would be competing at the World Championships later that year. It read "I'm so excited! I've been training hard all summer long and am ready to go!"
Social Media Links:
Facebook: https://www.facebook.com/leekieferfencing
Instagram: https://www.instagram.com/leetothekiefer
Twitter: https://twitter.com/leetothekiefer