Jill Scott MBE is an English football player born on 2nd February 1987 in Sunderland, England. She is currently playing for Everton on loan from Manchester City and England's national team in a midfield position. Likewise, she grew up in Sunderland, Tyne, and Wear. Talking about her education, she went to Monkwearmouth Comprehensive School. Scott was in a long-distance running for Sunderland Harriers and won the North of England Under-13 cross-country title and the Junior Great North Run while playing football for Boldon Girls. At 13, she chose to play football over running as her career. After 2003, Scott went to Gateshead College to do BTEC (Business and Technology Education Council) National Diploma in Sports and Exercise Science.
According to FIFA technical report, Scott is among the four outstanding players in the 2011 Women's World Cup. She is known as a ball-winning and energetic midfielder who has better team management, hardworking on both ends of the pitch, and can change the team's angle of attack. Moreover, she is also known as "Crouchy" after Peter crouch, a male international footballer. A 5 ft 11 in tall player left her hometown club Sunderland and joined Everton in 2006. Further, Scott contributed to winning the FA Women's Premier League Cup in 2008 and FA Women's Cup in 2010. She was named as 2008 FA Player's Player of the Year and FA International Player of the Year in 2011. In addition, she comes forward whenever needed has appeared in four World Cups and European Championships.
Quick Bio
| | |
| --- | --- |
| Full Name: | Jill Louise Scott |
| Nickname: | Jill |
| Jersey Number: | 18 |
| Date of Birth: | 2nd February 1987 |
| Height: | 5 ft 11 in (1.81 m) |
| Current Age: | 34 |
| Birth Place: | Sunderland, England |
| Father: | Not available |
| Mother: | Not available |
| Siblings: | Not available |
| Spouse: | Not available |
| Children: | Not available |
| Nationality: | English |
| Current Club: | Everton on loan |
| weekly Salary: | Not available |
| Net worth: | $1 Million-$5 Million |
Relationship Status
Scott hasn't married nor has children. But recently, in March 2020, the famous player announced her engagement with her long-term girlfriend Shelley Unit through her social media. She is a community health officer in Walsall, West Mids. However, there is no information about her past relationships.
Salary and Net worth
Talking about Scott's net worth, most of the earnings come from her professional football career. She has played for many clubs and national games. Besides, the player also owns a football academy in partnership with Hopwood Hall College in Manchester. In 2020, her estimated net worth was $1 million to $5 million.
Moreover, the player has an endorsement deal with the Nike brand. Further information on the salary and net worth will update soon. However, she has not disclosed any of her assets like a house and cars.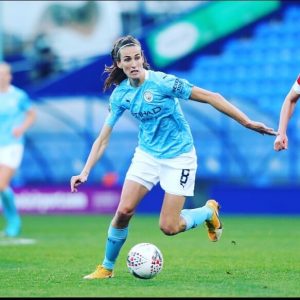 Family Members
There is no information regarding Scott's parents and her siblings.
Physical Measurement
The 34-years-old Scott stands at the height of 5 feet and 11 inches (1.81 m) tall and weighs around 64 kgs. The other information of her body measurement, hair, foot size will update soon.
Career (Clubs and International)
Club
Sunderland:
Scott went to the University of Sunderland Foundation to study sports and exercise development. She played in the college football team together with Carly Telford, Sunderland, and national teammate. Further completing her diploma, Scott, along with Telford, joined Loughborough University to study sports.
Similarly, her senior career started with Sunderland Women. Scott won the Women's Player of the Month award at 18 in October 2005. It was evaluated based on her excellent performances for the club and England at the U-19 level.
Everton:
In July 2006, Scott joined Everton Ladies and rejected an offer from Doncaster Rovers Belles. She debuted for Everton next month, where Arsenal Ladies defeated them with 3-0 in the FA Women's Community Shield. Furthermore, at 19, she played alongside her three years senior, Fara Williams.
She was awarded the FA Tesco Player's Player of the Year later in the 2007-08 season, in which Alex Scott and Karen Carney of Arsenal were also nominated. Scott was one of the eight digital media ambassadors, i.e., one from each team. For which they have to wear the shirt with their Twitter account on the sleeves to raise the profile of the WSL in April 2012. During her career in Everton, the player won the FA Women's Premier League Cup and the FA Women's Cup by playing in the finals. At the end of the 2013 season, she left Everton and joins Manchester City for two years.
Manchester City:
Scott joined Manchester City for two years term after leaving Everton. In 2014, she played an essential part in lifting a trophy for City in the Continental Cup. While playing against Arsenal in April 2015, Scott got a red card for headbutting Arsenal's Jade Bailey, which banned her from playing three matches. In this match, Arsenal defeat City with a 1-0 goal. In 2017, Scott scored against Birmingham that helped City to lift the Citizen's Women's FA Cup Final trophy.
The player signed a new contract with City for two years in April 2020. On 29th August 2020, she got another red card for two bookable offenses in the Women's FA Community Shield, in which City lost to Chelsea by 2-0 goals at Wembley Stadium.
Everton on loan:
On 21st January 2021, the player rejoined her former club, Everton, on loan for the remaining 2020-21 season.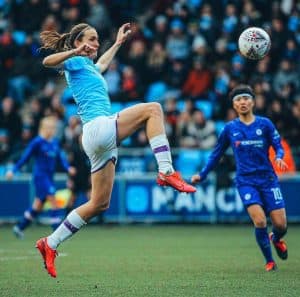 International
Junior team:
Scott played for under-19 junior level for England's national team. She bagged three goals in three matches. And that helped England qualify in the first round for the 2006 UEFA Under-19 tournament. Further, Scott was a captain in the U-19 team for 18 months. And in May 2006, the player joined the senior national team.
Senior team:
2006-07
In August 2006, Scott debuted as a senior player in a match against Netherland, in which she came as a substitute for Kelly Smith in a 4-0 win. Further, in the 2007 World Cup, an opening match against Japan, she played as a substitute. She scored her first international goal for England in a 6-1 victory against Argentina in the group stage in China. But England was knocked out from the quarter-final after the United States defeated them by 3-0 goals.
2009
Similarly, Scott was one of the 17 players to receive central contracts by The Football Association in May 2009. She was on the list of coach Hope Powell's team for the 2009 UEFA Women's European Championships. She scored in the semi-finals, coming as a substitute for Jessica Clarke before the extra time. In which England won against the Netherlands.
2011-20
Moreover, in the 2011 FIFA Women's World Cup, Scott helped England to win against New Zealand with 2-1 goals in group B. With the goal of Scott in the quarter-final, England defeated France, but she missed a penalty goal in a 3-4 shootout resulting in a 1-1 draw. Moreover, in the 2017 Euro Cup qualification, she scored an equalizer against Belgium. As a result, England completed a 3-0 victory over Wales, securing its place in France in 2019. Scott scored in a 3-0 victory against Cameroon. And it was her 18th appearance at a World Cup Finals, the most among any other English player in history. However, in February 2019, she was left out in the SheBelieves Cup for the national team.
In addition, in the 2020 New Year Honours, Scott was assigned as Member of the British Empire (MBE) Order for her services in women's football. Likewise, the player made her 150th appearance for England on 23rd February 2021, in a match against North Ireland. In which she captained and played for 90 minutes with a 6-0 win.
Furthermore, the 150 times capped player was on Great Britain's 18 player's list for the 2012 London Olympics in June 2012.
Scott as a coach
The player was assigned as the Women's Football Academy coach for Gateshead College in September 2008. At the same time, Mick Tait, a former Darlington manager, took over as a coach for the Man's Academy.
Honors and Trophies
For Clubs
Everton:
FA Women's Premier League Cup: 2007-08
FA Women's Cup: 2009-10
Manchester City:
FA Women's League Cup: 2014, 2016, 2018-19 season
FA Women's Cup: 2016-17, 2018-2019, 2019-2020
For International
Cyprus Cup: 2009, 2013, 2015
Runner-up in the UEFA Women's Championship: 2009
Third place in the FIFA Women's World Cup: 2015
Individual
Women's Player of the month for September: 2005
FA Tesco Player's Player of the Year award: 2007-08 season
FA International Player of the Year: 2011
Member of the Order of the British Empire (MBE): 2020 New Year Honours
Social Media
Scott, one of the top players of England, is active on Instagram and Twitter. Her Instagram followers are around 124K, and her followers on Twitter are around 97.1K.
Instagram: https://www.instagram.com/jillscottjs8/?hl=en
Twitter:https://twitter.com/JillScottJS8?ref_src=twsrc%5Egoogle%7Ctwcamp%5Eserp%7Ctwgr%5Eauthor