Jordan Nobbs was born on 8th December 1992 in Stockton-on Tees, England. She is 28 years and an England professional football player. Nobbs has played for clubs and international games and is known for her game with the Woman's Premier League clubs, Sunderland Women's, and Arsenal Ladies. Moreover, in the 2015 Cyprus Cup, the player received international caps as a vice team captain with England's women's national team. She started her career as a footballer at eight by playing in Sunderland's youth program. The player was associated with Sedgefield Community College in Durham County, where she played school-level football. Though at 16, she quit school and made her senior debut for Sunderland Women in December 2008. Nobbs has played with Steph Houghton as her team member on England's Women's national football team.
In addition, she is the fierce central mid-fielder in England's women's national team. Currently, Nobbs is playing for FA WSL club Arsenal as a central midfielder. She has represented England at the youth and senior levels. The Arsenal player has the highest number of appearances and won twelve trophies at Arsenal, including Barclays FA Women's Super League title victories. Furthermore, she renewed her contract with Arsenal in April 2020. In September 2012, Nobbs made her senior international debut for England national team. She was the leading team member of the national team, where England bagged the third position in the 2015 FIFA Women's World Cup.
Quick Bio
| | |
| --- | --- |
| Full Name: | Jorden Nobb |
| Nickname: | Nobber |
| Jersey Number: | 8 |
| Date of Birth: | 8th December 1992 |
| Height: | 5 ft 3 in (1.59 m) |
| Current Age: | 28 |
| Birth Place: | Stockton-on-Tees, England |
| Father: | Keith Nobbs |
| Mother: | Kerry Nobbs |
| Siblings: | Liam Nobbs |
| Spouse: | Not available |
| Children: | Not available |
| Nationality: | English |
| Current Club: | Arsenal |
| weekly Salary: | Under Review |
| Net worth: | $1.5 Million-$5.5 Million |
Relationship Status
Nobbs is not married nor has children. She is currently single and not in relation with anyone as per some sources. Her previous dating history is null and far from media attention. Like other players, she also likes to keep her personal life and love life away from the spotlight. Further, the player has a clean history and away from any controversies in her professional career.
Salary and Net worth
Nobbs has played for clubs and many international games in her career. Talking about her net worth, it has been growing significantly in recent years. However, most of her earnings come from her professional football career. According to Forbes, IMDB, and Wikipedia, the estimated net worth of Nobbs is around $1.5 million to $5.5 million. Her salary is around $23,429.59 (16,510 Euro) annually from Arsenal.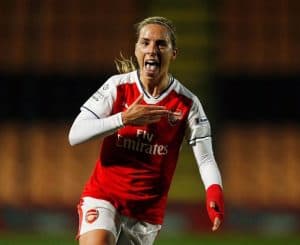 Family Background
The multiple award winner Nobbs started playing football at a young age. She was born to parents Keith Nobbs and Kerry Nobbs. Her father, Keith, was also a professional footballer throughout the 1980s and 1990s. She has an elder brother, Liam Nobbs. Further, she has lived with her grandparents for two years and is closed to them. When she was seven years old, her grandfather accompanied her for the first trial for Sunderland. They were very supportive over the years. One of the most challenging times in Nobbs's life was when her grandfather passed away due to cancer, and it was unbearable due to her grandmother's sudden demise. In the meantime, she was deciding to join clubs at 17.
Physical Measurement
The goal-scoring midfielder, Jordan Nobbs, is 28 years old and stands 5 feet and 3 inches (1.59 m) tall. She weighs around 52 kgs. She has got a pair of brown eyes with beautiful blonde hair. Other information about body measurements, shoe size, dress size will update soon.
Career (Clubs and International)
Club career
Nobbs has a very successful career, whether in the club or the national team. At eight, she joined the Sunderland center of Excellence and even associated with Middlebrough as a young female player. She followed her father, Keith, by representing Durham schools in the 2008-09 season as a student of Sedgefield Community College.
Sunderland:
In December 2008, the player started playing in a first-team for Sunderland. Nobbs assisted Sunderland in her first season as a senior player to win the FA Women's Premier League Northern Division. Although, Sunderland reached the 2009 FA Women's Cup Final but was defeated by Arsenal.
Sunderland made its success with the help of Nobbs by placing the fifth position in the first season at the top level. She was a necessary part of the team. In more than six years career of Sunderland, they managed to inflict only Gunner's second league defeat. But Nobbs changed the history of the club by scoring against Arsenal in November 2009. Moreover, later the season, she was named manager's and player's Player of the Year for Sunderland. The rising player won the FA Young Player of the Year award for 2010.
Further, the player began to receive proposals from many big clubs of England as Sunderland failed to join the FA WSL. In the end, she signed a contract with Arsenal in August 2010. She continued to play for Sunderland in the 2010-11 Premier League as Arsenal was waiting for the FA WSL, a summer competition for the first time in six seasons. However, Sunderland won the league but was not promoted for the WSL as the lineup was already adjusted.
Arsenal: In 2010-11
In September 2010, Nobbs debuted for Arsenal by coming as a substitute in a second-half for a 3-1 match victory over ZFK Masinac in the UEFA Women's Champions League staged in Serbia. However, her first goal was in the home leg, which was the sixth goal in a 9-0-win match. She made her appearance in all eight matches for Arsenal, including the five previous ones where Lyon defeated the club in the semi-final.
Arsenal won the Women's FA Cup final against Bristol Academy with 2-0 goals on 21st May 2011 in Ricoh Arena. The player has a vital role in the inaugural WSL season in which Arsenal won the title. Altogether she made 12 appearances in 14 matches by making nine starts and scoring one goal in this season. At the same time, Nobbs played in the quarter-finals, semi-finals and came as a substitute for Danielle Carter in the 69th minute at the finals with 4-1 goals.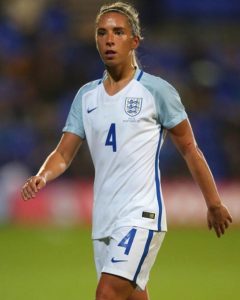 In 2012-13
Moreover, in the eight matches of Arsenal, she appeared in seven and scored four goals in the 2012 Champions League. Arsenal was defeated in the semi-final for the following two seasons. Nobbs appeared in 13 of 14 Arsenal's matches, holding the title without a single loss. She scored five goals and made it to the top six goal scorers in the league. She was featured in the third season for Arsenal and made it to the Champions League semi-final but was defeated by VFL Wolfsburg in the final stage.
In the 2013 FA Cup, Nobbs scored in a 3-0 for Arsenal against Bristol Academy in Keepmoat Stadium. Arsenal failed to qualify in the 2014-15 Champions League; however, their victory in 2012 WSL had already qualified them for the 2013-24 Champions League. Along with the striker Danielle Carter, Nobbs joined the top scorer for Arsenal with six goals. Additionally, in the 2013 WSL Cup, she was a part of every Arsenal match, where they defeated Lincoln with a 2-0 in the final.
In 2014-15
Though Nobbs scored four goals in the first four Champions League matches for Arsenal but was suffered due to a back injury in the pre-season, missing the entire Arsenal victory in the FA Cup campaign. On 6th July, she returned as a substitute in a WSL Cup tie against Chelsea, in which Arsenal won with 3-0 goals. Before Nobbs played for Arsenal, the club was at the league's bottom with just a point in five games. Despite playing only nine games, the player joined Casey Stoney as a top scorer for the season.
Although Arsenal reached up for final in the WSL Cup in which Nobbs played last two group matches, i.e., semi-final and final but lost to 1-0 by Manchester City. On 30th April 2015 WSL season, she suffered from a hamstring injury in the 10th minute with a 0-0 match against Chelsea. It was just a month before the 2015 World Cup in Canada. In addition, Nobbs scored two goals in the final and was Player of the Match in the 2015 League cup.
In 2016-17
Before the FA Cup round of 16, Arsenal needed penalties to defeat Birmingham City, with Nobbs scoring the decisive goal in the 2016 season. She appeared in the 2016 FA Cup final, where Arsenal won against Chelsea with 1-0 goals in May 2016. However, the club only made it to the 3rd in the WSL season. She was praised by Pedro Martinez, Arsenal's manager, for the excellent performance against Notts County in July. Further, in September, with the goal of Nobbs, Arsenal won the match over Manchester City with 1-0.
During the spring series, she played every game for Arsenal with two draws against Liverpool and Sunderland. Even though the player scored a 4-3 goal over Liverpool in the 81st minute, a late equalizer denied their victory. Meanwhile, with a match against Manchester City, she scored a free-kick from 30 yards in the 75th minute and won the match. Arsenal defeated Bristol City with 5-0 goals, in which Nobbs scored the second goal. Though Arsenal won every match, they finished the season in second place to Chelsea on goal difference. Nobbs remained the top scorer of Arsenal and third in the overall season.
In 2017-18
Nobbs scored two goals against Liverpool for a 3-0 win on 24th April 2017 and made a half-century of goals for Arsenal. Although by one point to Man City, Arsenal was removed from the Champions League. In the 2017-18 WSL Cup, Nobbs scored four goals lifting Arsenal to the win. She scored two in the 5-2 group match against Millwall. In the quarter-finals, she scored a goal against Sunderland in a 3-1 match.
In 2018-20
On 18th November 2018, Nobbs suffered an injury in a 4-0 victory over Everton. One day later, it was announced that she had ruptured the anterior cruciate ligament of her left knee.
On 25th August 2019, the player returned from the injury as a half-time substitute in a friendly match against Tottenham Hotspur and scored 3rd in a 6-0 win. Furthermore, on 8th September, she made her come back to WSL after 295 days from her injury. She came as a substitute for Viktoria Schnaderbeck in a 2-1 win against West Ham United. Moreover, Nobbs signed a new contract with Arsenal on 21st April 2020.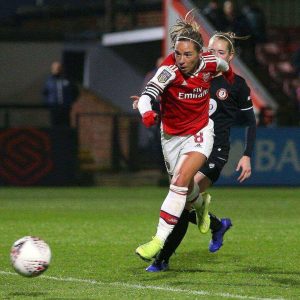 International Career
Youth Career:
Nobbs, at 12, was a part of the under-15 squad for England. She became captain of the team when she turned 13 against Wales under-15, scoring 2-0 goals. Further, Nobbs went to become captain of the under-17 team. In the 2008 Under-17 World Cup held in New Zealand, she helped England place in the fourth position. For the 2009 European Under-19 Championships in Belarus, Nobbs scored in the final victory over Sweden. However, England reached the finals of the 2010 European Under-19 Championship in Macedonia with the help of Nobbs but lost to France. After that, she was a part of all three matches for England in Germany's 2010 Under-20 World Cup.
Senior Career:
The player was in the senior England party in June 2011 before FIFA Women's World Cup. On 19th September 2012, Nobbs received her first call up in senior squad for the final UEFA Women's Euro 2013 qualifying match against Croatia at Bank's Stadium in Walsall. However, on 6th March 2013 Cyprus Cup, she made her senior international debut by scoring the first goal for England in a 4-2 win against Italy. In the next match, Nobbs scored against Wales in the 2013 World Cup qualifier held in The Den.
Moreover, she became vice-captain for England at the 2015 Cyprus Cup, leading the team to win the trophy as captain Steph Houghton was out due to injury. In 2015, Nobbs was named for the Women's World Cup but only played one match because of injury. Again in November 2018, she ruptured her anterior cruciate ligament and missed the 2019 Women's World Cup. Nobbs appeared as a BBC pundit for the World Cup and columnist for 90 Minutes magazine.
Honors and Trophies
For Clubs
Sunderland:
FA Women's Premier League Northern Division: 2008-09
Runner-up in the FA Women's Cup: 2009
Arsenal:
 FA Women's Super League (WSL): 2011, 2012, 2018-19
 FA Women's Cup: 2010-11, 2012-13, 2013-14, 2015-16
For International
 UEFA Women's Under-19 Championship: 2009 and runner-up in 2010
 Cyprus Cup: 2013, 2015
 3rd position in the FIFA Women's World Cup: 2015
Individual
FA Young Player of the Year: 2010
Player of the Year at the FA Women's Football award: 2016
FA Player's Player of the Year: 2017
London Football Awards: Vauxhall London Women's Player of the Year in 2018
Social Media
The top goal scorer, Nobbs, is active on social media. She has 111K followers on Instagram and 75K followers on Twitter.
Instagram: https://www.instagram.com/jordannobbs/?hl=en
Twitter:https://twitter.com/JordanNobbs8?ref_src=twsrc%5Egoogle%7Ctwcamp%5Eserp%7Ctwgr%5Eauthor