A Boogie Wit Da Hoodie is the professional name of Artist Julius Dubose. He is an American rapper, singer, and songwriter born on 6th December 1995 in The Bronx, New York, USA. His friends called him "A Boogie Wit Da Hoodie" from the 2002 Paid in Full movie character "Ace Boogie," as he always wears hoodies. Also known as 'A Boogie,' he has a big name in the hip-hop world with his hit songs like "Numbers, " "Drowning, " "My Shit, " "Look Back at It, " and "Timeless," and "Jungle."
A boogie is associated with Atlantic Records along with his label imprint, Highbridge the Label. At the same time, he has worked with some renowned artists like Chris Brown, 21 Savage, Kodak Black, YoungBoy Never Broke Again, Try Songz, and PnB Rock in his compositions. Some of the releases are certified by the Recording Industry Association of America (RIAA).
Moreover, "The Bigger Artist" is his debut album ranks second in the 'Billboard 200 Chart'. In 2018, he released "Hoodie SZN," his second studio album, and it became his number one album on the Billboard 200. Likewise, his third studio album "Artist 2.0," started at number two on the Billboard 200. A Boogie is in the top ten list of the XXL Freshman Class of 2017 and the list of upcoming rappers by Forbes.
Quick Bio
| | |
| --- | --- |
| Real Name: | Artist Julius Dubose |
| Nickname: | A Boogie Wit Da Hoodie |
| Profession | Rapper, Singer, Songwriter |
| Genres | Hip-Hop, trap, R&B |
| Date of Birth: | 6th December 1995 |
| Height: | 1.78 meters (5 ft 10 in) |
| Current Age: | 25 |
| Birth Place: | New York, US |
| Father: | Cyrus Dubose Jr. |
| Mother: | Tia Dubose Freeman |
| Siblings: | Cyrus Leonard Dubose III, two other brothers |
| Marital status | Single |
| Children: | Melody Valentine and Artist Julius Dubose Jr. |
| Nationality: | American |
| Labels | Highbridge and Atlantic Records |
| Net Worth | $3.5 Million |
Early life
A Boogie was born and raised in Highbridge in New York City along with his brothers, Cyrus Leonard Dubose III, and two others. He was born to Cyrus Dubose Jr. and Tia Dubose Freeman. He has gone to Eagle Academy. During freshman year, he performed cipher and rhymes at lunchtime and stored them in his notebook. He remarked his high school as "I was regular, nobody really noticed me. I was the one in the back of the classroom, quiet" in an interview with XXL.
As growing up, A Boogie started involving in selling cannabis and narcotics. Due to this, his parents sent him to Florida, where he completed his high school at the Performance-based Preparatory Academy in Fort Pierce, Florida. He was under house arrest in Florida. In the meantime, A boogie started to work on music by improving his self-composed rhymes. Also, he made an amateur studio in his flat. Along with this, he also got some part-time jobs in pizza delivery and construction.
A Boogie Net worth
The current estimated net worth of the rapper is around $3.5 million US dollars.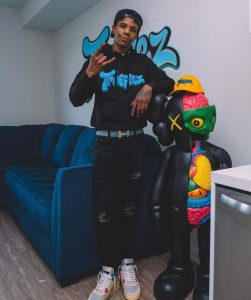 Relationship Status
A Boogie is in relation with Ella Rodriguez, a social media influencer. She appeared on his first music video. Further, his girlfriend owns an eyelash brand called "Slay by Ella." They have a daughter and son. Their daughter Melody Valentine was born on 14th February 2017. And his son, Artist Julius Dubose Jr. was born on 27th June 2020.
According to some sources, they have broken up and no longer together as of 2021.
Physical Measurement
The famous rapper stands at the height of 1.78 meters and weighs around 70 kg. A Boogie has dark brown eyes and black hair. Further information about his dress size, shoe size, and other body measurement is not available.
Career
2015
A Boogie started rapping at 12 after inspired by Kanye West and 50 Cent. He debuted at 19 with his single "Temporary," released on SoundCloud. However, his song lacked the most crucial thing for a good hip-hop number, i.e., good rhythm and flow. So that is why, producer of the song, Myster Whyte, who he met in Florida, hired a trainer. And A Boogie work with the trainer to improve his techniques. This training session helped him to improve his sound.
Additionally, after coming back to New York in 2015, he entirely focused on his music. Then, he associated with rapper Quincy "QP" Acheampong, Don Q, and Bubba to create a home studio and Highbridge the Label.
2016
After that, in February 2016, A Boogie dropped his first full-length mixtape, "Artist." It was a breakthrough of his career, and he was listed in the upcoming rappers by Forbes. At the same time, he dealt with a terrible break-up that inspired the mixtape and his career.
Moreover, A Boogie collaborated with rapper Don Q in "Highbridge the Label: The Takeover Vol. 1" on 18th May 2016. He performed with Drake and in Future's Summer Sixteen Tour. Also, he co-signed by Drake. Then he was signed by Atlantis Records in July 2016. In addition, he appeared on the BET Hip Hop Awards along with Russ, Don Q, Kent Jones, and Nick Grant. In October 2016, A Boogie released "TBA," i.e., The Bigger Artist, his first extended play. It ranked at 63rd number on the US Billboard 200 chart and appeared on the 40 Best Rap Albums of 2016 by Rolling Stone. Four of the tracks earned sales certification from the Recording Industry Association of America (RIAA). Along with this, "Drowning ft. Kodak Black" and "My Shit" earned platinum status, whereas "Timeless" and "Jungle" earned gold status.
2017-2018: The Bigger Artist and Hoodie SZN
A Boogie made to the top ten of XXL's 2017 Freshman Class on 13th June 2017. Similarly, he dropped his debut studio album, "The Bigger Artist," with the guest appearances of Chris Brown, Kodak Black, Trey Songz, PnB Rock, 21 Savage, and YoungBoy Never Broke Again. "Drowning" ft. Kodak Black ranked at number 38 on the US Billboard Hot 100 and set off to be his highest-charting singles in the country. Chris Brown and Yo Gotti featured in his "Pill & Automobiles" trach and secured 46th rank in the US Billboard.
Further, on 14th January 2018, A Boogie appeared on the single "Keke" by the rapper 6ix9ine. This song ranked 43rd on the Billboard Hot 100 list. Also, in November 2018, he featured on "Waka," one of the songs of "Dummy Boy" album by 6ix9ine.
"Hoodie SNZ" is the second album of A Boogie, released on 21st December 2018. 6ix9ine, Juice Wrld, Offset, and another artist contributed to this album. This album sold 90,000 copies in its first week and debuted at number two on the Billboard 200 list. And it reached number one on 14th January 2019. Likewise, it became the most played album in 2019 and ranked 10th position on the Billboard 200 Year-End Chart. Also, it is on 69 on Billboard's Decade-end Chart.
2019-2020: Artist 2.0
In 2019, A Boogie appeared on over 20 songs with Ed Sheeran, Khalid, Rick Ross, Liam Payne, Summer Walker, Ally Brooke, and Lil Durk. Moreover, on 3rd September 2019, he dropped his first single "Mood Swings" from the album "Artist 2.0". It started at 76 on the Billboard Hot 100. Then on 15th November 2019, the rapper releases the second single, "Reply" from Artist 2.0, featuring rapper Lil Uzi Vert. It debuted on 49th on the Billboard Hot 100.
Throughout 2019 A Boogie toured and performed at concerts around the US and UK. In addition, he was going to perform along with rappers AJ Tracey and A$AP Rocky at Wireless 2020 but canceled due to COVID-19. Again, on 31st January 2020, an American rapper dropped his third single, "King of My City," from Artist 2.0. It ranked at 69th on the Billboard Hot 100 on the first day.
Additionally, on 14th February 2020, he released his third studio album and sequel of debut mixtape Artist. The album started at number two on the Billboard 200. Rappers Roddy Ricch, Khalid, Summer Waler, Gunna DaBaby, Lil Uzi Vert contributed to Artist 2.0. This album released on 14th February 2020 as Artist was released on the same day in 2016 and was his daughter's third birthday. Further, he dropped his lead single from Artist 2.0 deluxe version on 16th June 2020 and ranked 57th on the Billboard Hot 100.
2021-Present
The fourth studio album, "A Boogie vs. Artist," is set to release in 2020 and sequel his mixtape "Highbridge The Label Vol 1: The Takeover". Moreover, A Boogie collaborates with Don Q on 1st July 2020 in "Flood My Wrist," featuring Lil Uzi Vert. A Boogie and Don Q and Trap Manny released "Vroom Vroom," a second single from his album's sequel, on 3rd September 2020.
The song "9 Bridge," featuring A Boogie and Rowdy Rebel, was released on 14th May 2021. After 11 months, on 21st May 2021, A Boogie dropped the first single, "24 Hours," from "A Boogie vs. Artist." It featured Lil Durk and started at 92 on the Billboard Hot 100.
Awards and Nominations
BET Awards (Black Entertainment Television)
Nominated for the Best New Artist: 2018
ASCAP (American Society of Composers, Authors, and Publishers)
Nominated for Rhythm $ Soul Music for "Look Back at It": 2020
Nominated for Pop Music for "Look Back at It": 2020
Legal issues
Furthermore, in January 2021 couple from Bergen County, New Jersey, sued A Boogie for clogging toilets and overrun by sewerage material. It penetrates the floors and damages the ceiling and causing $260,000 worth of damage in their mansion. They leased that mansion to the rapper in 2017 and 2018.
Additionally, the rapper has faced legal trouble in 2020. A Boogie had been arrested on gun and drug charges alongside his security guard Quashaun Hagler in northern New Jersey according to Bergen County Prosecutor's Office. They found uncovered four handguns, ammunition, marijuana, hashish oil Edibles, and drug paraphernalia, linked with the distribution of controlled dangerous substances. A search warrant was issued in his home in New Jersey. US chart-topper, A Boogie was charged for unlawful possession of a handgun and marijuana possession. And Hagler was charged with three counts of the same handgun offense and illegal possession of a large-capacity magazine. Likewise, his manager, Samblou Camara, was arrested and charged for marijuana possession.
Social Media
Moreover, the popular rapper is active on Instagram, Facebook, and Twitter. He has around 1.1 million followers on Facebook (https://www.facebook.com/ArtistHBTL), 5.9 million on Instagram (https://www.instagram.com/aboogievsartist/?hl=en), and 1 million on Twitter (https://twitter.com/ArtistHBTL?ref_src=twsrc%5Egoogle%7Ctwcamp%5Eserp%7Ctwgr%5Eauthor). Also, he has an official website (aboogiehbtl.com).