Jesse Bailey Watters was born on 9th July 1978 in Philadelphia, Pennsylvania, US. He is professionally an American political commentator on Fox News Channel. Mostly he features on "The O'Reilly Factor," a political talk show, and sometimes as a guest co-host on "Outnumbered." Also, Watters host a show named "Watter's World," and a "man-on-the-street" interview is shown as a part of it. Moreover, in January 2017, he presented a weekly show, "Watter's World," on Fox News. In April 2017, he featured as a co-host for "The Five," a roundtable series.
Quick Bio
| | |
| --- | --- |
| Full Name: | Jesse Bailey Watters |
| Date of Birth: | 9th July 1978 |
| Birth Place: | Philadelphia, Pennsylvania, US |
| Height: | 1.95 meters |
| Current Age: | 43 |
| Profession: | American political commentator |
| Political Party | New York Conservative |
| Father: | Stephen Watters |
| Mother: | Anne Purvis Watters |
| Siblings: | Not available |
| Spouse: | Noella Watters (2009-2019), Emma DiGiovine (M. 2019) |
| Children: | Ellie, Sophie, Jesse Bailey Watters Jr. Watters |
| Nationality: | American |
| Annual Salary: | $2Millions |
| Net worth: | $6Millions |
Early Life
Watters was raised in Germantown in the early days and later shifted to the East Falls neighborhood in Philadelphia. He joined the "William Penn Charter School" in the city until his junior year. Further, they moved to Long Island in New York. He completed his graduation with on BA in history from "Trinity College" in Hartford, Connecticut, in 2001.
Family Background
Jesse Watters was born to his parents Stephen Watters and Anne Purvis Watters, in Philadelphia, Pennsylvania. He married Noelle Inguagiato Watters. Similarly, they share twin girls, Ellie Watters and Sophie Watters, on 4th November 2011. Nolle is a New York-based fashion stylist and tv personality. In 2011, she hosted a fashion and style program, "iMag," on Fox News. Previously, they reside in Manhasset, North Shore of Long Island in New York.
Further in March 2018, Noelle filed a divorce with Jesse as he was having extramarital relations with the show's producer, Emma Digiovine. Later, in August 2019, Watters announced his engagement with girlfriend Emma and married her. On the 1st of April 2021, they were blessed with a son, Jesse Bailey Watters Jr.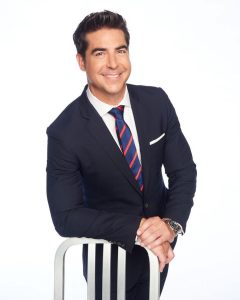 Height and Weight
Jesse Watters is 43 years as of now. He is 1.95 meters tall and weighs around 75 kg.
Salary and Net Worth
Watters is famously known for his work as a conservative political commentator for Fox News. And, also one of the well-paid personalities in the world. However, as per some sources, his average salary is around $ 2 million per year. Further, his estimated net worth is around $6 million in 2021.
Career
Talking about Watters's career, he started as a production assistant on the Fox News channel in New York after graduating. Then after two years, in 2003, he joined the production team of "The O'Reilly factor." It is a news and political talk show feature in Fox News, presented by Bill O'Reilly.
In 2004, Watters appeared in parts of the O'Reilly show, i.e., man-on-the-street interviews. And most of the people admired the show. He came as a guest host on the TV series "The Five" from 2013 to 2014. In addition, he appeared on the Tv series Fox and Friends as a guest host from 2013 to 2014.
Finally, on 11th June 2014, he debuted with daytime news and talk show "Outnumbered" on Fox News and appear as guest co-host.
Moreover, on 20th November 2015, Watter debuted his own monthly news program on the same news channel called "Watters' World." This program mainly focuses on the topics such as popular culture and politics. It became a weekly program in January 2017, which appears at 8 p.m. as per eastern daylight time on Saturdays.
Watters came as one of the four permanent commentators of the Fox News panel talk show, "The Five," in April 2017. It is a round-table program where they mostly discussed politics, current affairs, and popular culture.
Additionally, in April 2021, HarperCollins, a publishing company, reported the release of Watters' new book, "How I Saved The World," on the 6th of July.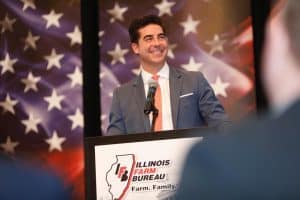 Controversies
Fox News host Watters is popular for his numerous provocative statements. Some also refer his as an "ambush journalist." Likewise, in January 2017, he criticized Hillary Clinton's campaign manager, John Podesta, for the theft of Podesta's emails by Russian hackers. Watters said Podesta gave the password to a hacker, while PolitiFact, a fact-checking website, showed his claim as false.
Further, Watters supported President Trump's policy of separating children from their families saying "some would say it's a more humane policy than keeping them together." Also, on 4th April 2019, he appeared on the talk show "Hannity." He said it is not a big deal on the topic of climate change.
2009:
Jesse Watters and his cameraman approached journalist Amanda Terkel who was on vacation as a part of "O'Reilly Factor" in 2009. They questioned her critical article on Bill O'Reilly.
After seven-year, in a journalist's reception, Ryan Grim of "The Huffington's Post" approached Watters to go and apologize to Terkel. At first, he agreed to do so but later refused by saying, "I ambushed her because O'Reilly told me to get her because she said some bad shit." The video of this incident was captured by Ryan, which later turned into a clash between the two.
Moreover, on 11th September 2013, Watters blamed Muslims for the domestic terrorist acts on the 12th anniversary of the 9/11 terror attacks.
2016:
In October 2016, people criticized him for racist stereotypes in a part of his show. People bashed him for his content in a "Watters' World," showing the Asian-Americans of Chinatown, Lower Manhattan, New York City. He asked Chinese Americans whether they knew karate and customary bow before greeting. Also, Watters asked if their watches are legitimately bought or stolen. This part of the show plays a 1974 disco song, "Kung Fu Fighting," in the background and shows him fiddling with nunchucks and getting a foot massage. Many people called out as it contains offensive Asian stereotypes.
At the same time, numerous lawmakers and journalists like New York's mayor Bill de Blasio and Asian Americans Judy Chu and Mazie Hirono criticized him. While on 5th October 2016, he apologized and further classified man-on-the-street to be tongue-in-cheek humor. And Watter justified it as a political humorist and light piece of the show. Although, Will Thorne of "Variety" called it a non-apologetic.
2017:
After two days of joining The Five, Watters commented Ivanka Trump's speech, daughter of former President Donald Trump, as lewd in April 2017. It was after her speech on female entrepreneurship. But Watters denied it as a sexual comment. Later he did not appear on the show for two days that week.
Later in March 2020, he stated the "KFC.," the fast-food chain and marijuana sellers, could do swift business in a black neighborhood.
Social Media
Jesse Watters is active on social media like Facebook (Jesse Watters), Instagram (jessewatters), and Twitter (@JesseBWatters). He has around 1 million followers on Facebook, 539k on Instagram, and 1.4 million followers on Twitter.