Sophie Clarice Dossi is an American contortionist, gymnast, social media influencer, and television personality. She is popularly known as golden buzzer receiver and finalist of the 11th season of the reality show "America's Got Talent." Dossie stunned the judges with her powerful performance, i.e., aerial, contortion, and hand balancing skills. She is a competitive gymnast and dancer from an early age. Similarly, at 12, she watched an online video from "Cirque du Soleil." It is when her interest in contortion sparked, and she realized she could perform it as well.
Dossi came as a contestant on "America's Got Talent" in 2016. She impressed the judges, one guest judge, and the huge audience with her performance. From then onwards, she has become one of the popular internet personalities. Her YouTube channel has over 6.17 million subscribers. Likewise, she has millions of followers on Instagram, Facebook, and Twitter. Dossi performs live on Live.Me and nominated for the Streamy Award.
Quick Bio
| Full Name: | Sofie Clarice Dossi |
| --- | --- |
| Nickname: | Sofie |
| Date of Birth: | 21st June 2001 |
| Height: | 5 feet 1 inch (1.57 meters) |
| Current Age: | 20 |
| Birth Place: | Cypress, California, US |
| Profession | Dancer, Contortionist, Gymnast, Social Media Influencer, TV personality, Actress |
| Father: | Mike Dossi |
| Mother: | Abir Dossi |
| Siblings: | Zak Dossi |
| Relationship: | Single |
| Nationality: | American |
| Net worth: | $2 Million |
Net Worth
As per some sources, the estimated net worth of Dossi is around $2 million in 2021.
What is her relationship status?
Sofie Dossi is currently single and not dating anyone. According to some sources, she dated Tony Lopez in 2020 and later parted away.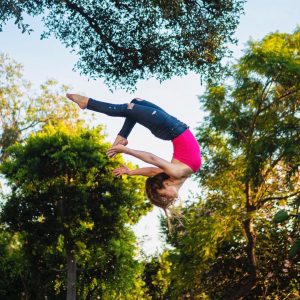 Early Life and Family Background
Sofie Dossi was born on 21st June 2001 in Cypress, California. She loves dancing and gymnastic from an early age. And Dossi a self-taught contortionist and hand balancer. She was home-schooled by her mother to keep up with her busy travel schedule. She has transformed her living room into a training area. The furniture was removed and filled with mats and her equipment.
In addition, she grew up watching cartoons like "Tom and Jerry" and "SpongeBob SquarePants." As per Dossi, she places her feet over her head on the couch and enjoys her time like that. By 12, she learned contortion after watching an online video, "Cirque du Soleil." However, she realizes her contortion skill and other impressive skills.
Sofie Dossi is born to her parents Abir Dossi and Mike Dossie. She grew up in California with her older brother, Zak Dossi. Her mother, Abir, is Arabic, and her father, Mike Dossi, is Italian. In addition, her mother works as a Pilates instructor, whereas her father owns a company. Zak is a music producer.
Moreover, her family is equally supportive and has contributed to her social media success. Her father helps to make equipment for her performance, and her brother works as a cameraperson, editor, and co-producer.
Body Measurement
Dossi is beautiful and has a charming personality. She is 20 years which is about 5 feet 1 inch tall (1.57 meters), and weighs around 45 kg. The estimated body measurement is 34-24-33. Her shoe size is 5.5 (U.S). She got a beautiful pair of ocean blue eyes, curly blonde hair, and a pear-shaped body.
Career
Dossi is a professional gymnast, contortionist, social media influencer, and television personality. At first, she earned fame as a golden buzzer receiver in the 11th season of "America's Got Talent," which premieres on 31st May 2016. She performed twisting and aerial routines. The judges Howie Mandel, Heidi Klum, Mel B, Simon Cowell, and the audience gave her standing ovations. The final episode was aired on 14th September, where Dossi became one of the finalists of that season.
California native, Dossi first appeared in round two, where Reba McEntire showed as a celebrity judge on the show. In her first performance, she shot an arrow with her feet along with eating an apple. It got positive votes from all four judges and a golden buzzer from McEntire, which promoted her to the live shows.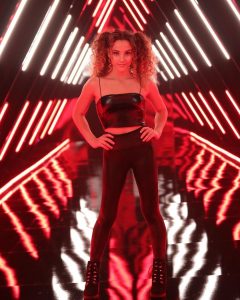 Moreover, Dossi presented her act in the quarter-finals and successively got to the semi-finals. Following the second week of the semi-finals, she was the ninth contestant. She performed and succeeded in the finals via "dunkin' save." On 13th September, Dossi showcased her last performance in the first round of the finals. However, she failed to win the final and completed as a top ten finalist. Ukulele player and singer Grace VanderWaal won the season, whereas the Clairvoyants' magician and metalist duo were the runners-up.
Appearances
Dossi's performance on NBC's "America's Got Talent" made her a popular public figure. She appeared three times on "The Ellen DeGeneres Show" in 2016 and 2017. Furthermore, she appeared on "The Doctors," "Good Mythical Morning (2018)," "The Talent show (2018)," and "Physics girl (2018)". Also, she has featured on Billboards and live performances all over the world.
Likewise, the talented performer also appeared on ABC News Nightline and other different channels as a guest and performer. At the same time, Dossi travels around the world for her performance at sports events and shows. Popular sports channels like ESPN and Sports Center have showcased her acts on various occasions. Also, in January 2017, Sports Illustrated rewarded as "Halftime Performer of the Year." Eventually, entertainment companies began to hire her for larger events.
YouTube channel
On 15th November 2013, Dossi started her own YouTube channel. And later, following NBC's America's Got talent, her fans enormously increased around the world. Her channel has 6.17 million subscribers and million views. Similarly, the contents of her videos include contortion videos, Vlogs, Challenges & Dares, Collabs! and SKITS. On 27th November 2016, she released her first video was "Training with Sofie Dossi."
Additionally, she performed in the song "FRIENDS" by Marshmello and Anne-Marie with her friends Serenity Harry, Chloe Schiedow, Tyler Kelly, and her brother. It is a popular video on her channel, posted on 30th March 2018. This video has got over 126 million views.
Dossie's other recognized videos include "Anne-Marie-2002 (Musi Video by Sofie Dossi)" with 51 million views, "DO I HAVE A SPINE??? (Answered & Explained)" with 40 million views, and "I SCARED ELLEN" with 25 million views. Also, she has appeared in videos like "THIS SHOULDN'T BE POSSIBLE" by Logan Paul's YouTube channel. Further, she launched the "Kiss and Tell" podcast with Kyla Kennedy in October 2020. Other popular video includes "I Got Revenge," "My Morning Beauty," "I Shot Logan Paul," "BTS Lakers Game, and "Insane Truth or Dare Game."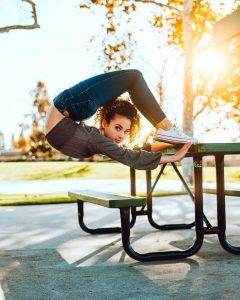 Acting Career
Along with being a great performer, Dossi is also a talented and aspiring actress. She made her on-screen debut in an episode from the television series "K.C. Undercover," aired on Disney Channel in 2016. Furthermore, Dossi featured on another fun series, "Bizaardvark," on the same channel in 2017. She played Dani in Brat's web series, "Boss Cheer," in 2018.
Award and Nominations
The talented performer Dossi has a nomination in the 2017 Streamy Award for her live-streaming shows. She got nominated for Streamy Awards in 2018 for her collaboration video with Miranda Sings. Likewise, she also has a nomination for her collaboration video with Matt Steffanina in the 2019 Streamy Awards. Dossi got nominated in the tenth annual Streamy Awards in the Dance category in 2020.
Social Media
Dossi has an active presence on social media with a huge fan following. She has around 4.1 million followers on Instagram (sofiedossi), 59k on Twitter (Sofie Doss), and 331k on Facebook (Sofie Dossi). Additionally, she has her own YouTube channel (Sofie Dossi), having 6.17 million subscribers. Dossi owns the online merch as Sofie Dossi Apparel & Accessories. She is among the top 20 TikTok stars (sofiedossi)with 9.9 million followers. Also, she has given her email, [email protected], for any business inquiry.